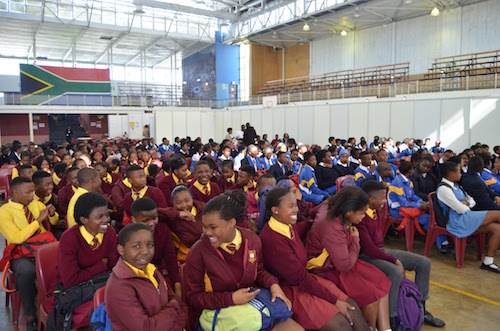 AIMS South Africa recently hosted National Science Week 7-10 August 2017 led by Dr Rejoyce Gavhi-Molefe where activities were made possible to approximately 1350 learners from 27 schools in neighbouring Cape Town areas.
AIMSSEC, the teacher training component of AIMS South Africa, identified ethnomathematics as a theme of "Advancing Science Tourism" in the true ubuntu spirit of making science, technology, engineering, mathematics and innovation (STEMI) real and purposeful to all. The purpose was to encourage the local community to explore mathematics in the rich history of cultures and identities in Africa. The week was jam-packed with fun-filled activities, exhibition stands manned by facilitators from different disciplines and influential speakers.
"We wanted to show the link between culture and mathematics," said AIMS's Sinobia Kenny. She said while learners engaged in creative activities illustrating algebra, geometry, pythagoras theorem and natural numbers, they were also learning about local innovations designed by people in their community.