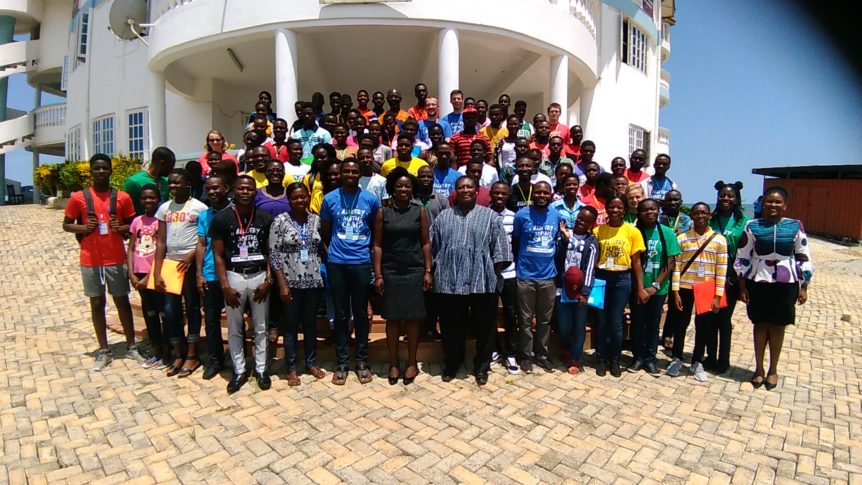 The Canadian Embassy in Senegal and the African Institute for Mathematical Sciences – Next Einstein Initiative (AIMS-NEI) organized, on October 26th, an industry partnership event. The event, held at the Official Residence of the Ambassador of Canada in Dakar, came to fruition through the strong support of the State of Senegal, the MasterCard Foundation, the International Development Research Center (IDRC) and Global Affairs Canada.
This event introduced industry partners to AIMS, highlighting the skills that graduates can bring to the industry. Networking with administrative staff and students resulted in constructive discussions on the alignment between AIMS training and industry needs and will increase internship and employment opportunities for students and graduates of the Institute.
In the presence of Prof. Aminata Sall Diallo, representative of the Minister of Higher Education, Research and Innovation, Dr. Mary Teuw Niane, the Executive Vice President of AIMS-NEI, Dr. Dorothy Nyambi, intimated: "the peculiarity of the work integrated learning model is resonant in its ability to equip students in two dimensions: first, at the academic level, where they study the concepts and subsequently at the practical level where they acquire work experience through internships. AIMS is pleased to collaborate with the pacesetters in the industry to train African youths towards innovation. "
Canada wishes to acknowledge the significant contribution of the Government of Senegal, universities and research centers, to the success of AIMS Senegal. It is in this light that the Ambassador of Canada to Senegal, HE Lise Filiatrault contended "Africa needs African talent and African knowledge for accelerated development. Canada is very proud to support AIMS centers across Africa, including that of Senegal. Investing in human capital, particularly in talented women scientists, makes the difference"!