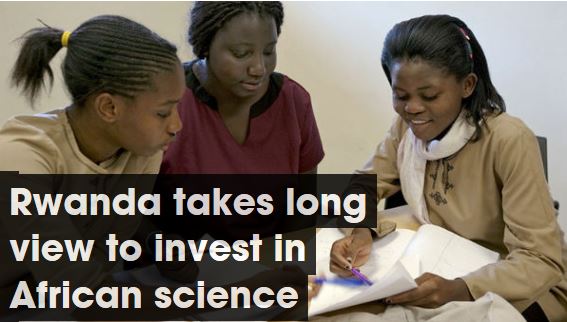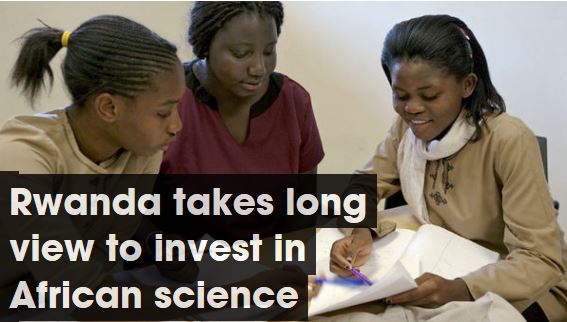 The Africa-wide Next Einstein Forum is just one way to build capacity for development, says Minister Papias Musafiri.
The Next Einstein Forum (NEF) that took place in Senegal earlier this month brought together African and global leaders from science, industry, civil society and government. The aim was to create "a unified African scientific identity integrated into the global scientific community and to inspire talented young people to pursue science". The forum showcased achievements by NEF fellows that illustrate the strong potential of young African scientists for cutting-edge research.
But across Africa, relatively few resources are devoted to research and development. It's telling that there is barely one scientist or engineer per 10,000 people on the continent, compared with 20-50 per 10,000 in developed countries.
Countries funding science and research face one key decision: how to balance applied research that focuses on current development challenges with basic research that focuses on long-term development. Rwanda has chosen to invest on both fronts and several initiatives testify to this, from the Quantum Leap Africa Research Centre launched earlier this year to plans to host the next NEF in 2018.
Action to support policy
Rwanda's government has had a national science, technology and innovation policy since 2005. [1] The premise is that, by building capacity in these fields, the country will enhance its prospects of reducing poverty, growing economically, creating wealth and diversifying exports.
The policy's objectives all focus on developing scientific capacity. They promote: knowledge acquisition through practical teaching in mathematics and science at all education levels; knowledge creation by developing university research capacity; knowledge transfer to users such as farmers or policymakers; and a culture of innovation to improve goods and services and create jobs.
"There is plenty happening domestically in Rwanda. The government is establishing a Centre of Excellence in Biomedical Engineering and eHealth within the University of Rwanda," says Papias Musafiri Malimba, Rwanda's Minister of Education
Several international and regional initiatives have been launched through this policy. In 2011, the Ministry of Education collaborated with MIT (the Massachusetts Institute of Technology) in the United States to establish an interim climate observatory in Rwanda while a permanent station, set to serve as a global climate observatory, was constructed on the summit of Mount Karisimbi in the north of the country. And in 2012, Carnegie Mellon University in the United States opened an ICT (information and communications technology) Centre of Excellence in Rwanda, establishing master's programmes with financial support from the government and the African Development Bank.
Working with other African nations, in 2015 Rwanda also helped to establish the East African Science and Technology Commission and partnered with the Abdus Salam International Centre for Theoretical Physics to establish an East Africa Institute for Fundamental Research.
And there is plenty happening domestically. The government is establishing a Centre of Excellence in Biomedical Engineering and eHealth within the University of Rwanda, with funds from the African Development Bank. The university is also home to a Centre of Excellence in Biodiversity & Natural Resources Management supported by One UN Fund.
There are plans for four additional centres of excellence, again at the University of Rwanda: the World Bank has conditionally agreed to fund proposed Africa Centers of Excellence specialising in: data sciences; the 'internet of things'; energy for sustainable development; and innovative maths and science teaching and learning.
An African Einstein
Last month, the government signed a partnership agreement with the African Institute for Mathematical Sciences — Next Einstein Initiative (AIMS-NEI) to host both the global AIMS headquarters and NEF 2018 in Rwanda. The Quantum Leap Africa Research Centre — which aims to solve development problems through data analytics and smart systems design, and build capacity in emerging fields such as quantum information science — will be launched under the same agreement.
NEF gatherings are a platform for fruitful interactions, sharing experience and reflecting on challenges and opportunities for developing scientific capacity in Africa. They also prepare and empower young African scientists, more so female scientists: more than 40 per cent of NEF fellows and ambassadors are women.
The heads of state of both Rwanda and Senegal were present, underscoring how important the NEF initiative is for African governments.
"I can think of few missions more essential than enabling Africa's brightest students to flourish as independent thinkers," says H.E Paul Kagame, President of Rwanda
In his remarks, Senegal President Macky Sall highlighted the role of female scientists. "At the heart of our policy is to put an accent on the education of women and girls and the support of STEM," he said. "Together, we must meet the challenge of producing the next African Einstein — be it a man or a woman."
And in his keynote address, Rwanda President Paul Kagame said: "I can think of few missions more essential than enabling Africa's brightest students to flourish as independent thinkers. The pressure is on to catch up and keep pace so Africa is not left [behind] in the wake of technological progress."
This year's event stressed the need for Africa to foster partnerships between universities, government and the private sector. In Rwanda, the government-funded Kigali Innovation City project, which houses facilities such as ICT training centres, works with knowledge partners including AIMS and the University of Rwanda to attract private companies; and a partnership with a South Korean telecoms firm has enabled the government to roll out broadband nationwide.
But there is more to do: create an ongoing dialogue among NEF stakeholders and establish a robust monitoring and evaluation framework to measure the implementation of outcomes from NEF 2016. NEF 2018 will then build on the lessons learnt and strengthen the momentum and shared vision of the Next Einstein Forum.
As host, Rwanda plans to showcase the progress made by some of the initiatives presented this year. It also plans to unveil cutting-edge initiatives from young African scientists.
Nobel laureate Abdus Salam once said: "Scientific thought and its creation is the common and shared heritage of mankind" — and so it is appropriate that NEF remains an opportunity to interact with leading scientists from around the world. The ultimate goal is to create the right environment for African scientists to conduct world-class research in world-class institutions on African soil.
Papias Musafiri Malimba is Rwanda's Minister of Education. He can be contacted at pmusafiri@gov.rw and on Twitter @PMusafiri
This article was published on the SciDevNet website.