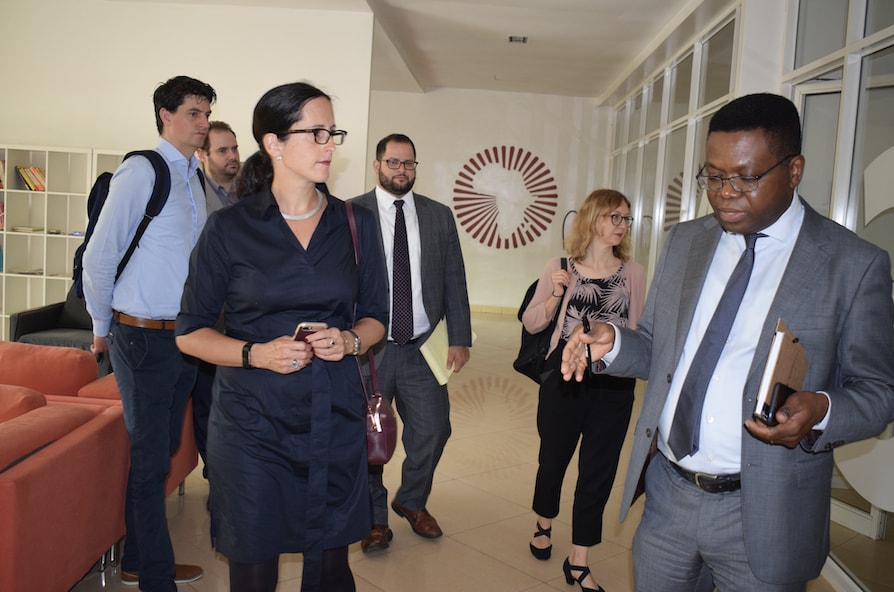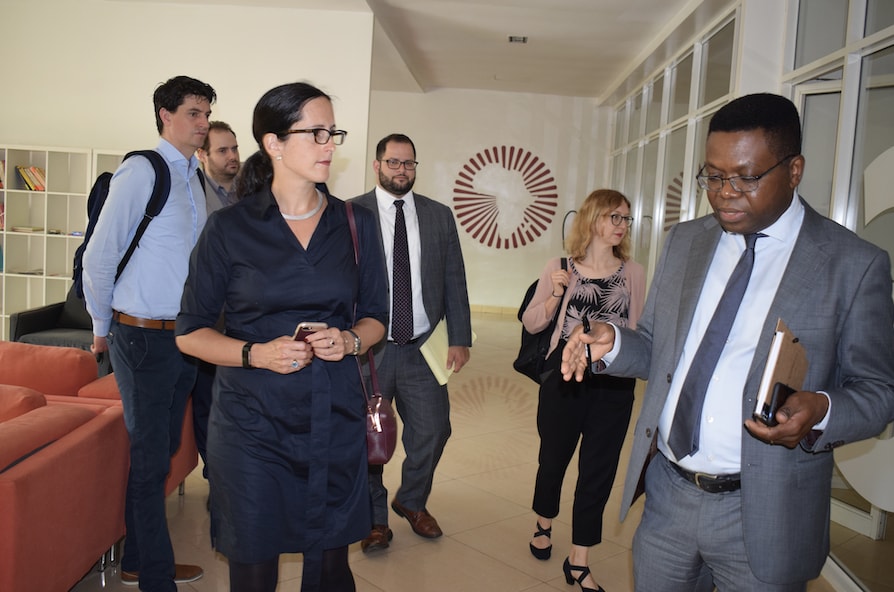 The Mozilla Chief Innovation Officer Katharina Borchert visited the African Institute of Mathematical Sciences (AIMS) Centre in Rwanda and held talks with Academy President Prof. Dr. Sam Yala and AIMS Global Director of Advancement and Partnerships,Mathias Goldstein.
Borchert, who was in Kigali to attend the Transform Africa Summit was taken on a campus tour after which she interacted with students. She was accompanied by a member of the Mozilla Policy team and representatives of the Germany international development agency, GIZ.
Borchert expressed strong interest in establishing institutional collaboration covering several aspects including data sharing for special projects development as well as academic internships for AIMS students under the Industrial Initiative realm.
"I am extremely impressed by the work being done at AIMS and it is my hope that we shall find ways of collaborating on initiatives of mutual interest to our respective organizations," she remarked shortly after the meeting.
AIMS Centre in Rwanda President Sam Yala, speaking at the end of the meeting said the delegation was impressed with the AIMS Education model and mission and expressed enthusiasm to pursue cooperation.
"They found that AIMS can be a good partner in terms of collaborative research and data sharing to develop technological innovations such as Mozilla's Common Voice, an initiative aimed at helping teach machines how real humans speak," said Yala.
Mozilla is also currently seeking global partnerships to build an open-source speech recognition engine dubbed 'Deep Speech.' Both projects are part of Mozilla's efforts to bridge the digital speech divide.
"Voice recognition technologies bring a human dimension to our devices but developers need an enormous amount of voice data to build them; but most of that data is expensive and proprietary; through global partnerships, I believe we can circumvent this challenge," said Borchert.
AIMS Global Director of Advancement and PartnershipsMathias Goldsteinsaid the visit is the beginning of a conversation which he believes will ultimately lead to strong cooperation between the two institutions.
"There is a shared passion between the two institutions to use technology to address global challenges and that is a strong foundation for future collaboration," said Goldstein.