On November 17, 2021, the very first AIMS-Ishango Data Science Fellowship Program came to an end. The fully funded, three-month fellowship program exposed the fourteen AIMS alumni (seven women and men) to real-world experiences through working on value-adding projects for international organizations.
In a closing remark to end the program, Dr. Charles Kimpolo, Director of the AIMS Industry Initiative, mentioned that it is essential for students to get work experience that increases their skills and employment opportunities.
"Our KPI is if we boosted your Data Science knowledge and employment opportunities. We look forward to you going out and shining."
Overall, it was an excellent experience for both the trainers and fellows. "I enjoyed how much I didn't seem like a boss to you, but a friend instead. I encourage you to keep asking questions because that's how I got where I am today. We are well-educated people; each one of us can be an extension of another's brain. We will stay in touch!" Oliver Angelil, Trainer.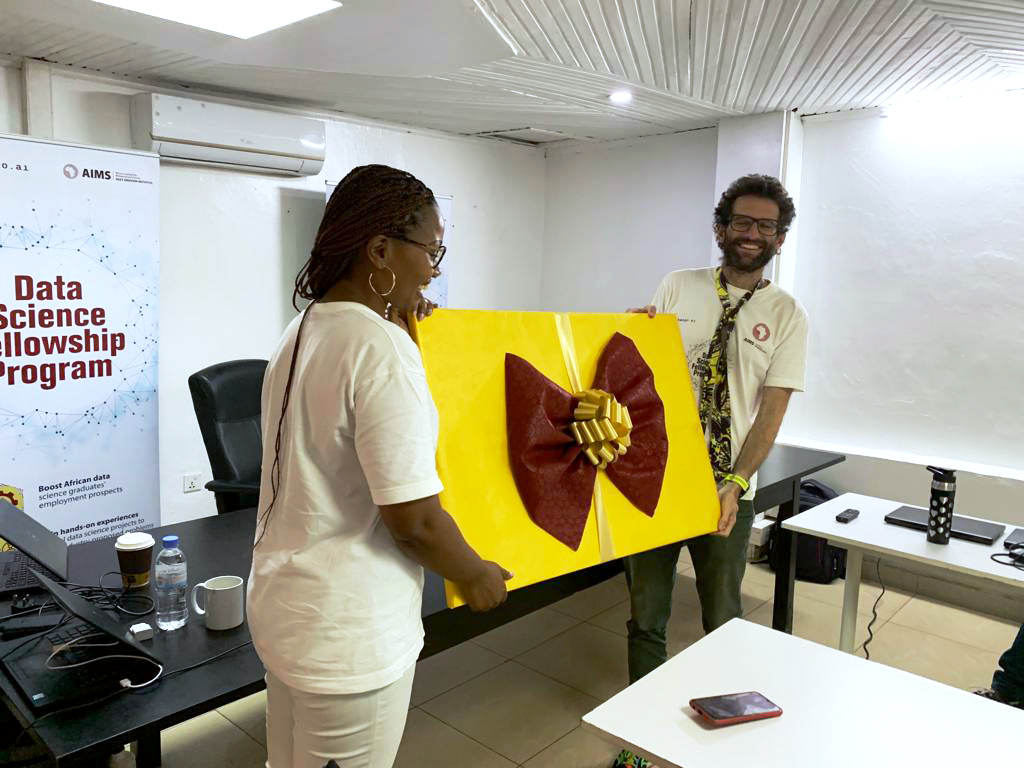 Beyond making connections and increasing employment opportunities for the fellows, why is the Data Science fellowship program important? Throughout history, many revolutionary technologies have radically changed how human beings live, to name a few, the Internet, World Wide Web, etc.
These technologies successively lead to discovering more innovative and powerful ones. Also, from improving our abilities to manufacturing vaccines and medicines to improving how we communicate, they make our lives better in so many ways.
Currently, we live in a fascinating world. We have a physical world and a digital one – and the Metaverse, a virtual-reality space in which people can interact with others in a computer-generated environment, is soon coming.
What's also happening is that data is increasingly becoming the most valuable thing in the world. It's currently the building block of almost every technology. According to Statista, among the top 6 companies in the world in 2021, 5 are technology companies. These companies leverage data to build innovative products and services that solve the most critical problems on a large scale.
Data is the driver of the next revolution. This Data Science Fellowship program is significant therefore because it is among the initiatives that can help Africa prepare for the upcoming quantum revolution.
Investing in training young Africans in fields such as Data Science that are leading today's technologies is critical to the development of Africa.
"Congratulations, a warm welcome to all fellows and the Data Scientist Mentor to AIMS Rwanda. To implement the AIMS vision, we need well-trained Africans in emerging technologies, and AIMS has demonstrated, over the years, that offering world-class training in Africa for bright Africans is a possibility. It is also important that our alumni stay on the continent to contribute to the transformation of Africa," said Prof. Sam Yala, AIMS Rwanda Centre President, when launching the program this year.
African scientists and researchers are working tirelessly to take Africa to the global scientific stage. Notable among these pioneering scientists is Moustapha Cisse, the Head of the Google AI Center in Accra (Ghana) and Founder and Director of the African Master's in Machine Intelligence (AMMI). He was recently named among the top 10 Artificial Intelligence thought leaders and influencers of 2021 by Analytics Insight. Also worth celebrating is Dr Bamba Mouhamadou Sylla and Dr Nana Ama Browne Klutse who are AIMS researchers specializing in Climate science. They are leveraging Data Science to understand climate change and inform policymakers to help them make effective decisions. Dr Sylla & Dr Klutse recently contributed to this year's IPCC Climate Change report as lead authors.
The Data Science Fellowship Program and other scientific training programs are great strategies to increase more excellent African scientists joining the global scientific community in solving the most pressing global issues.