Prosper Ndizihiwe, a developer on the CDS Team which won the Most Innovative Solutionprize at the Big Data for Development Innovation Challenge (BD4D-IC) final competition held in Kigali, Rwanda, was unemployed and did not have the funding to pursue developing the software he had in mind. The 25-year-old Rwandan was a stellar Computer Science undergraduate from the former National University of Rwanda. He said that his career options brightened after he saw the call for applications for the BD4D-IC organized by the Industry Initiative of the African Institute of Mathematical Science (AIMS). AIMS is a Pan-African network of Centres of Excellence for postgraduate training, research and public engagement in mathematical sciences that enables Africa's brightest students to become problem solvers and innovators that propel scientific, educational and economic self-sufficiency. After participating in a two-month training of the BD4D Innovation Program, in July 2019 Mr Ndizihiwe and his team submitted their application and they were selected as one of the ten finalists.
After a day-long pitching session in Kigali, the CDS team were declared winners of the Most Innovative Solutionby a panel of judges.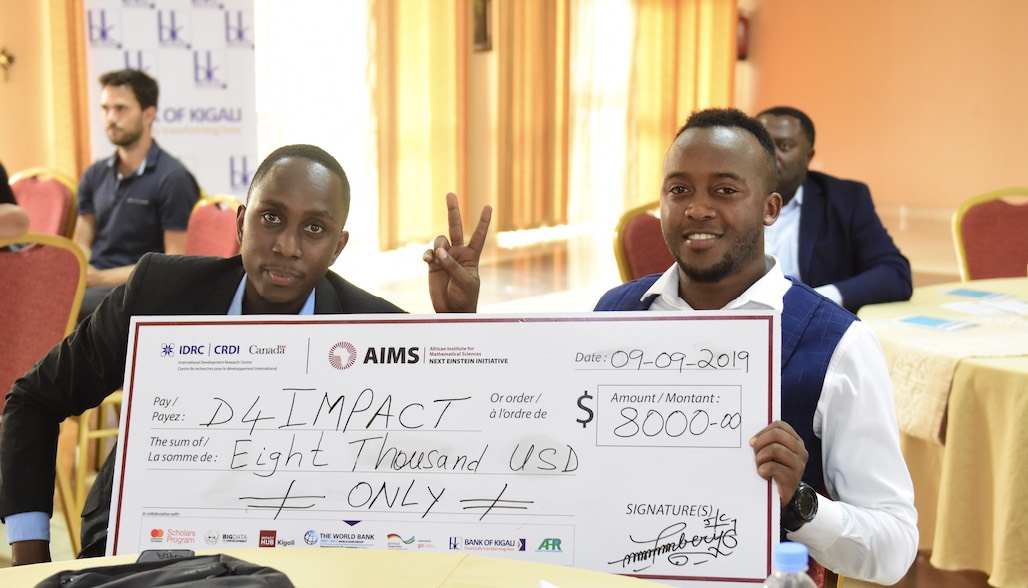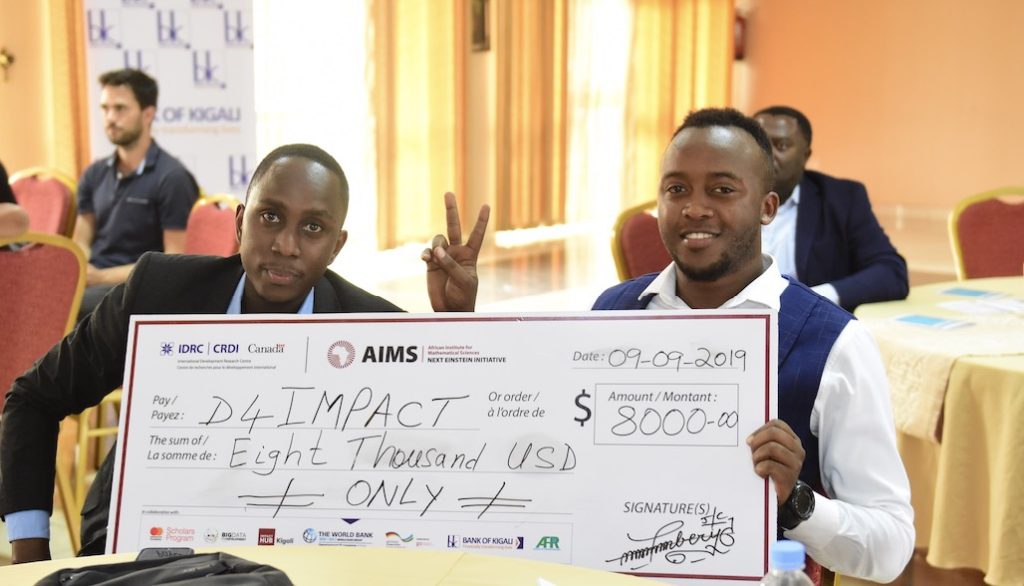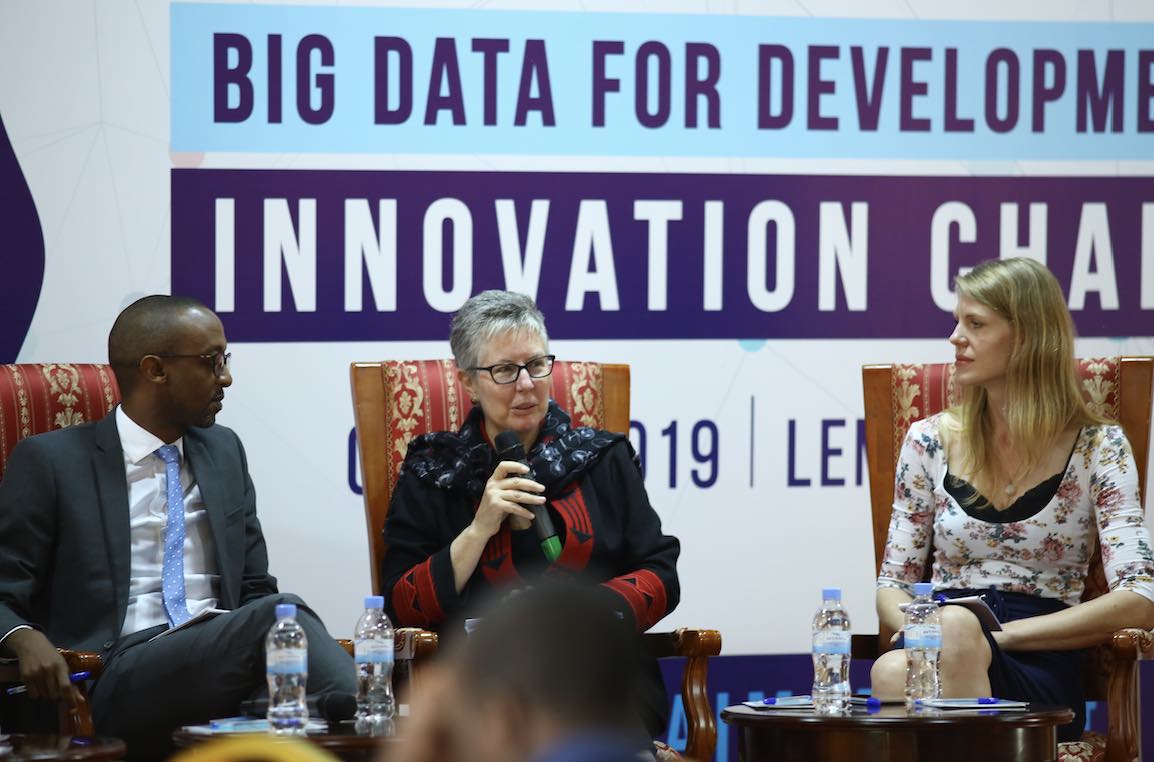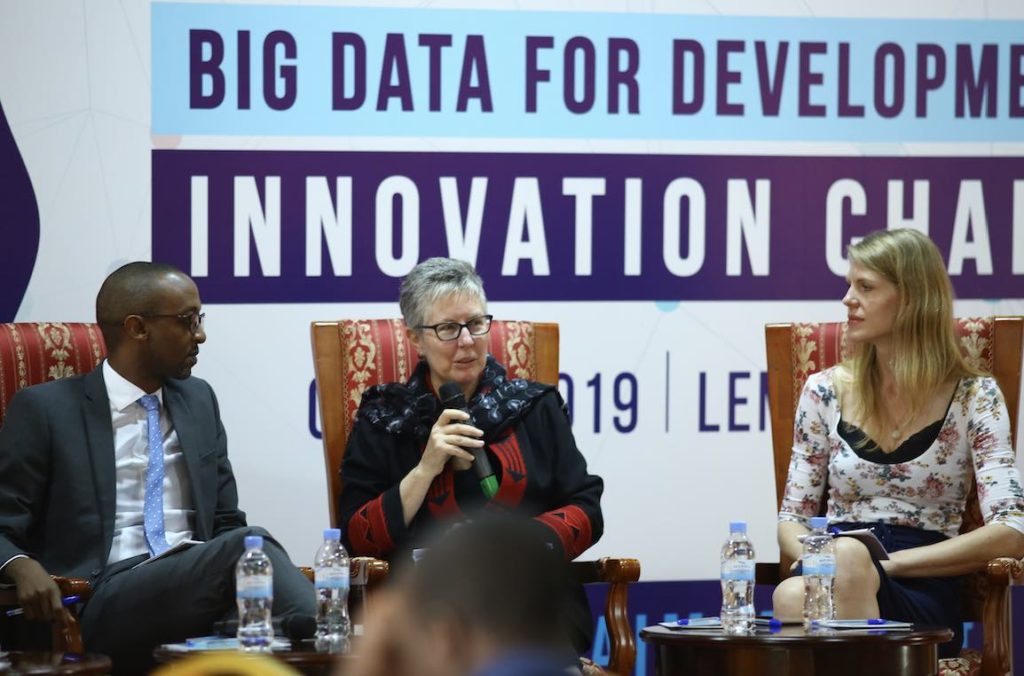 "Now as the CDS team we can focus on developing our software, get more funding, start an agribusiness consultancy," said Ndizihiwe looking with pride at his $8,000-cheque as he listed future prospects.
On the judging process, one of the judges, Leonida Mutuku, CEO and Founder of Intelipo Limited, said that the challenge is for innovation in the development sector.
"We were on the lookout for the development dimension, the team capacity, the big data component and the inclusive edge of the solutions," she said.
The BD4D Innovation Challenge (BD4D-IC) aims to identify and support the implementation and scaling of innovative big data solutions that leverage new and non-traditional sources of data to address development challenges. AIMS is currently implementing a two-year project titled: Harnessing Big Data to meet the Sustainable Development Goals – Building Capacityin the Global South with support from the International Development Research Cente (IDRC). As part of the project, AIMS partnered with the Local Development Research Institute (LDRI) to create a regional hub for Africa. The African hub collaborates with other regional hubs in Asia and Latin America to form the BD4D Global South research network.
"We are happy to work with partners like AIMS, trying to build a community of people who understand what Big Data is and how we can use it to meet the Sustainable Development Goals and reach that last mile to reach people who might not have access to certain services. When we approach Big Data, we need a critical perspective, because it can do a lot of things, but we need to make sure that we are not just re-creating the world that we see in front of us today. We need to make sure that we are using Big Data in a way that expands inclusion in society, in banking services, in access to food security. We need to bring our critical perspectives to bear," said Dr Kathryn Toure, IDRC Regional Director.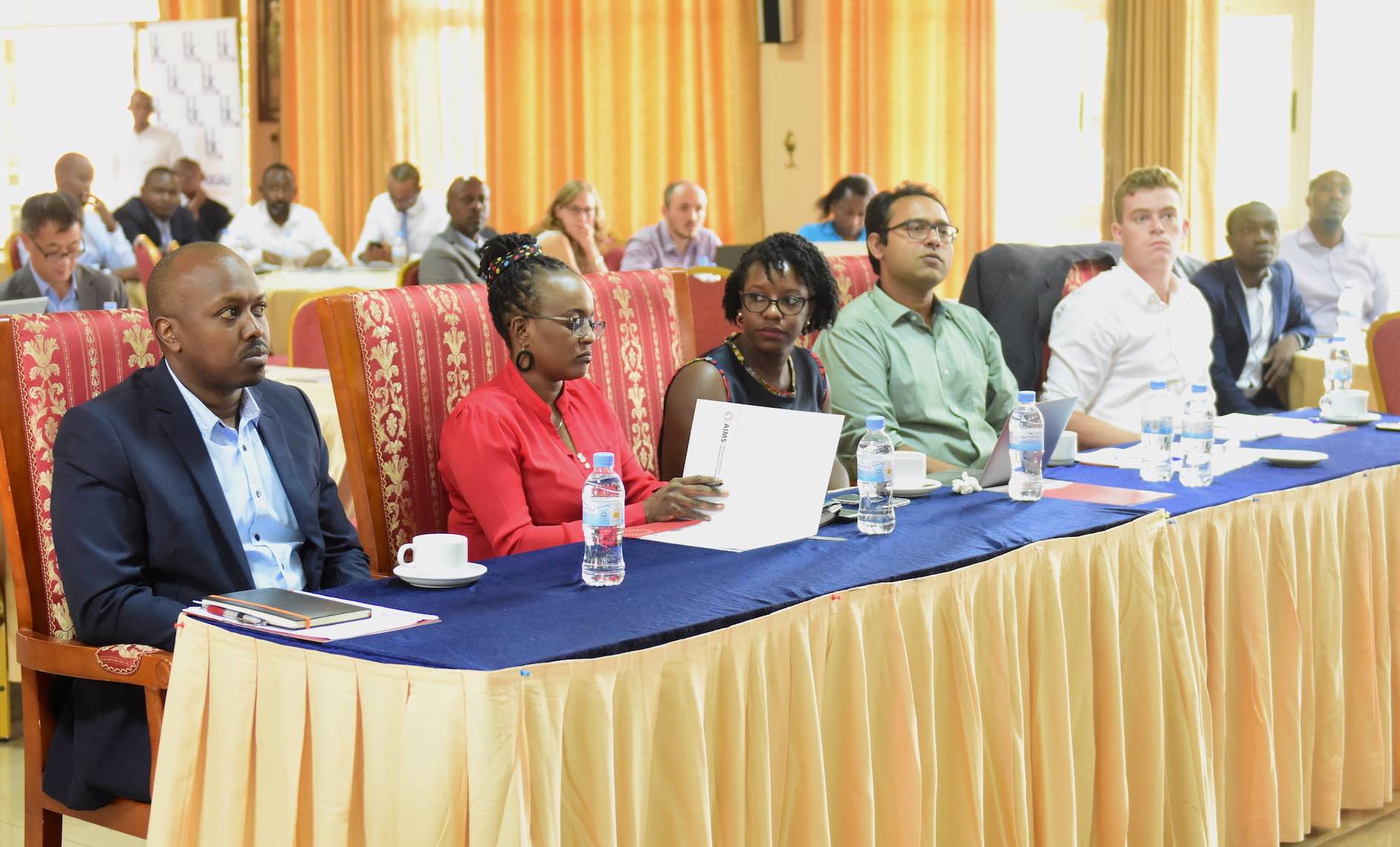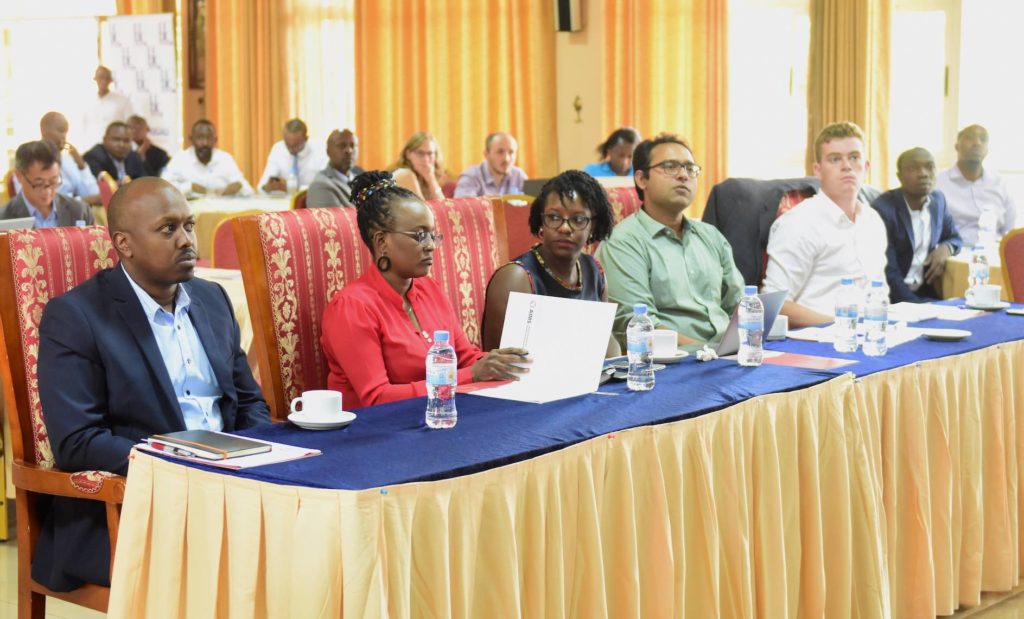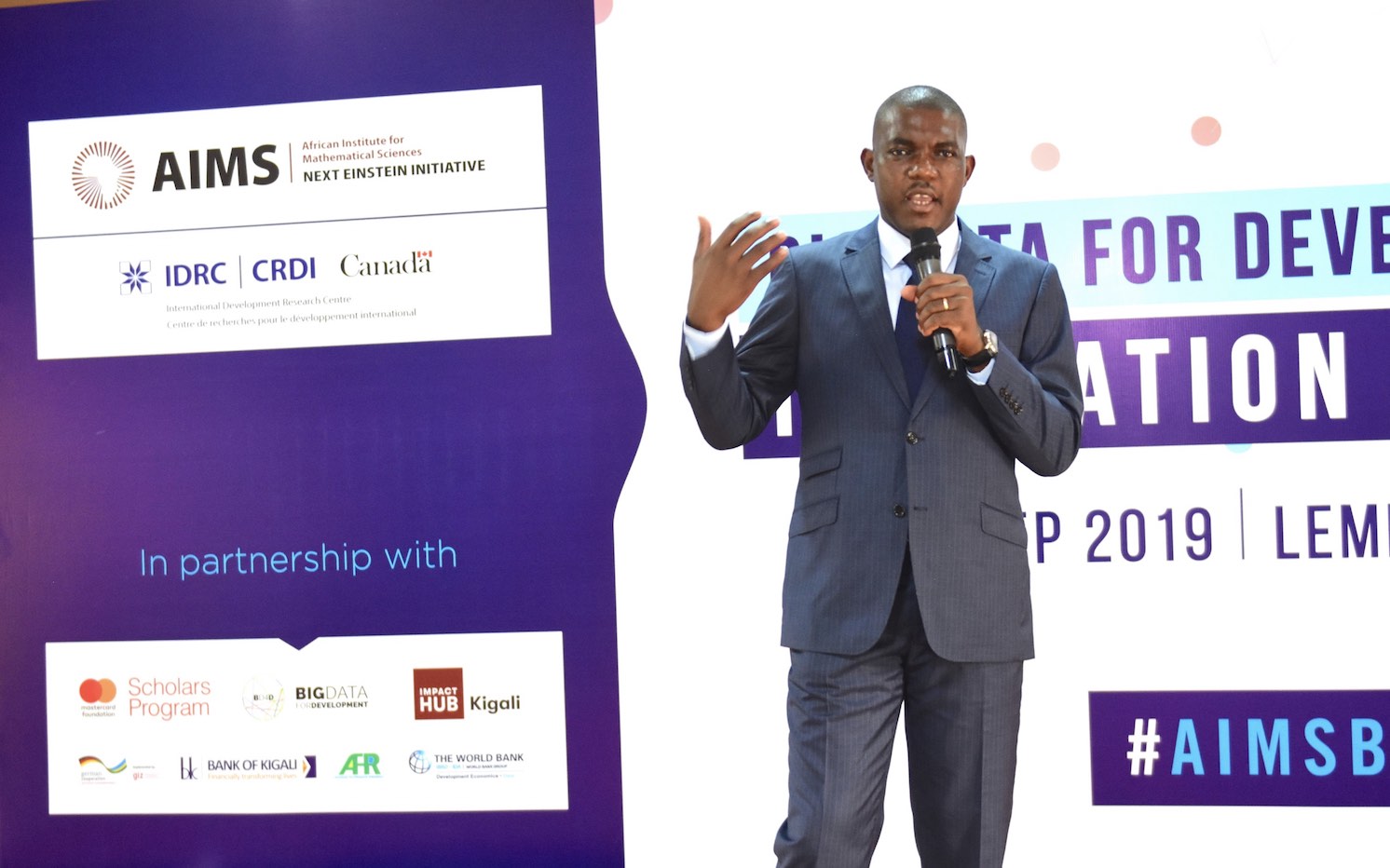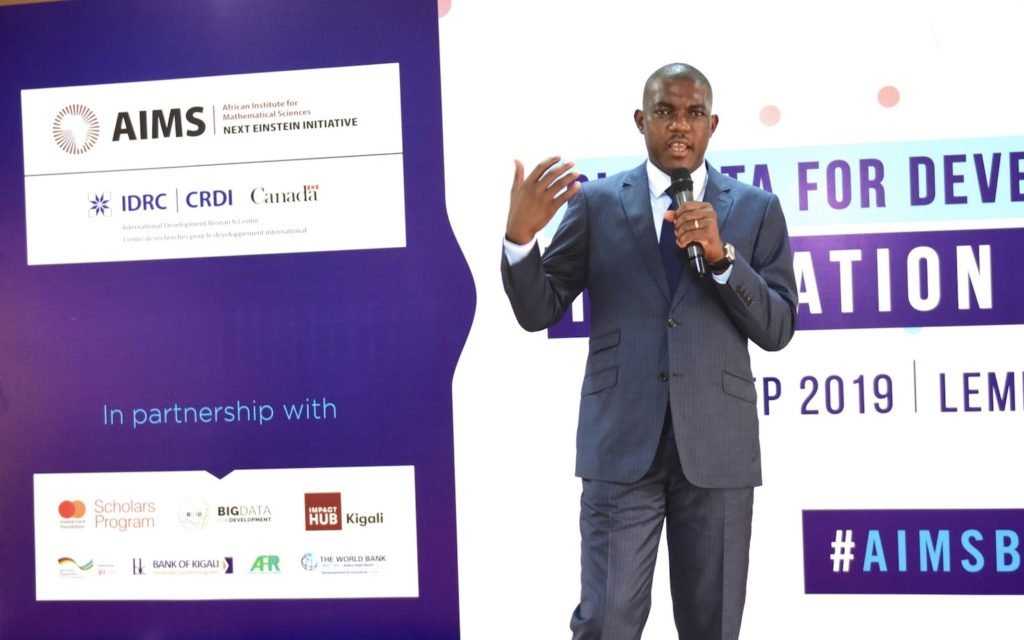 The African Hub is running the Big Data for Development Innovation Challenge to provide emerging young African data scientists with an opportunity to use big data techniques and data sets to provide innovative solutions to African challenges.
Prior to the competition, AIMS in partnership with Impact Hub Kigali held a training involving 30 teams of big data enthusiasts. Following the training, a call of applications to the pitch challenge was opened up. The call for applications garnered about 100 entries from various African countries. Ten teams were shortlisted from Rwanda, Kenya, Senegal and Nigeria. Funding for the prizes came from IDRC and thanks to the partnership with Access to Finance Rwanda (AFR), the Bank of Kigali (BK) and the German Corporation (GIZ Rwanda). Two prizes, the Best Solution and the Most Innovative Solution slots were up for the grabs.
"With a recently signed MoU between AIMS and GIZ Rwanda, I am proud to be a partner of AIMS to develop digital solutions for sustainable development. That is an overarching goal. My special congratulatory remarks to the winning teams. To all the young data scientists who participated in this programme, you really honour us. I am proud to hand over one of the two prizes. For those who did not win, please do not give up, I encourage you to continue working on your solution and rehash them. I am sure that most of them have the potential to make a difference," said Mr Bodo IMMINK, Country Director, German Corporation (GIZ Rwanda).
Pitches were focused on the following areas: Financial Inclusion, Food Security and Youth unemployment. Four specific Big Data challenges around these areas were submitted by the Bank of Kigali, the Development Bank of Rwanda, UNICEF Rwanda and UNDP Rwanda.
"We're working with young data scientists because they are more attuned to solve future problems. Their age allows them to have a long term vision for their society, they look at 50 to 70 years from today. Young people should be empowered to have a say on what the future should be," said Dr Charles Lebon Mberi Kimpolo, Director of the AIMS Industry Initiative.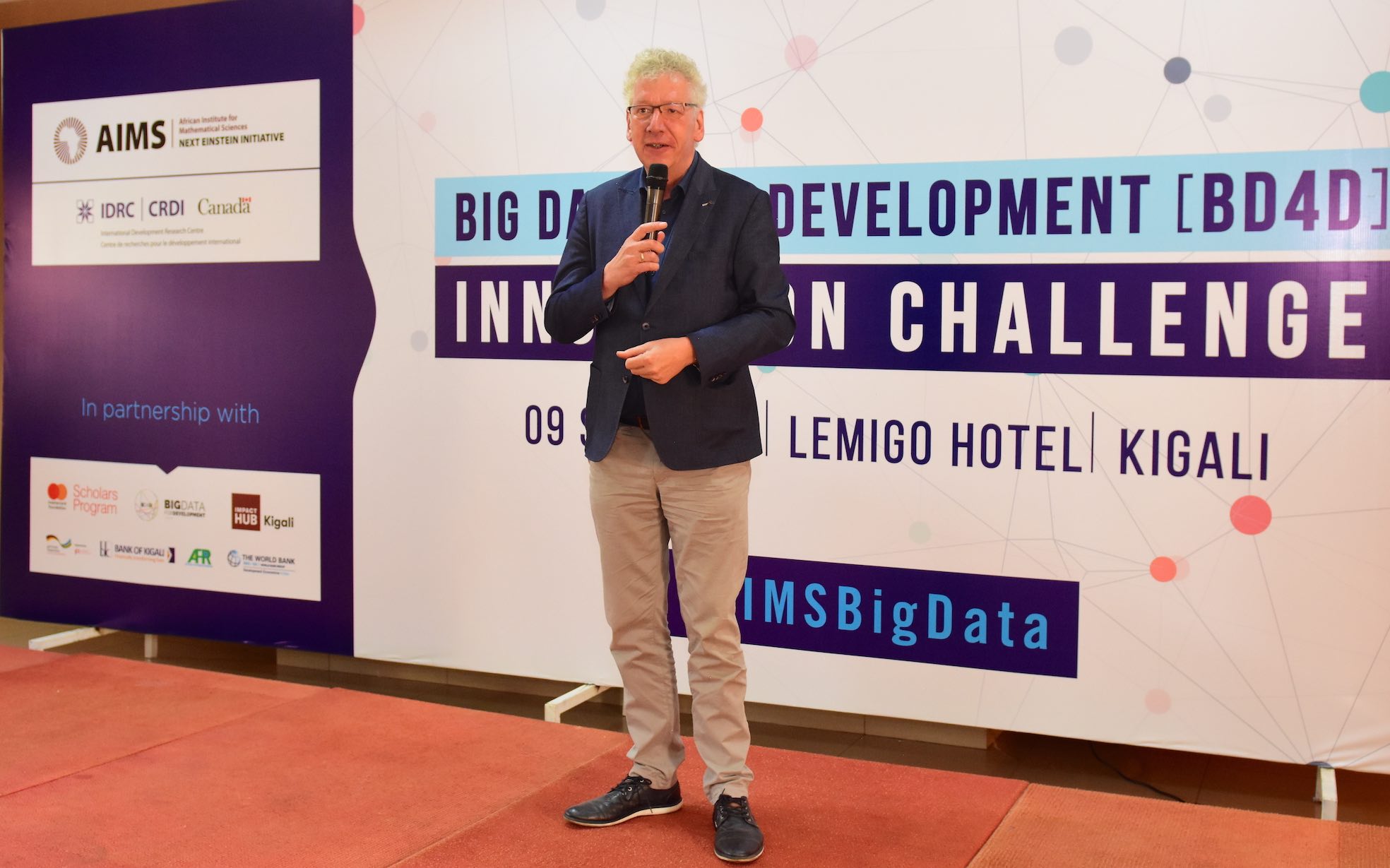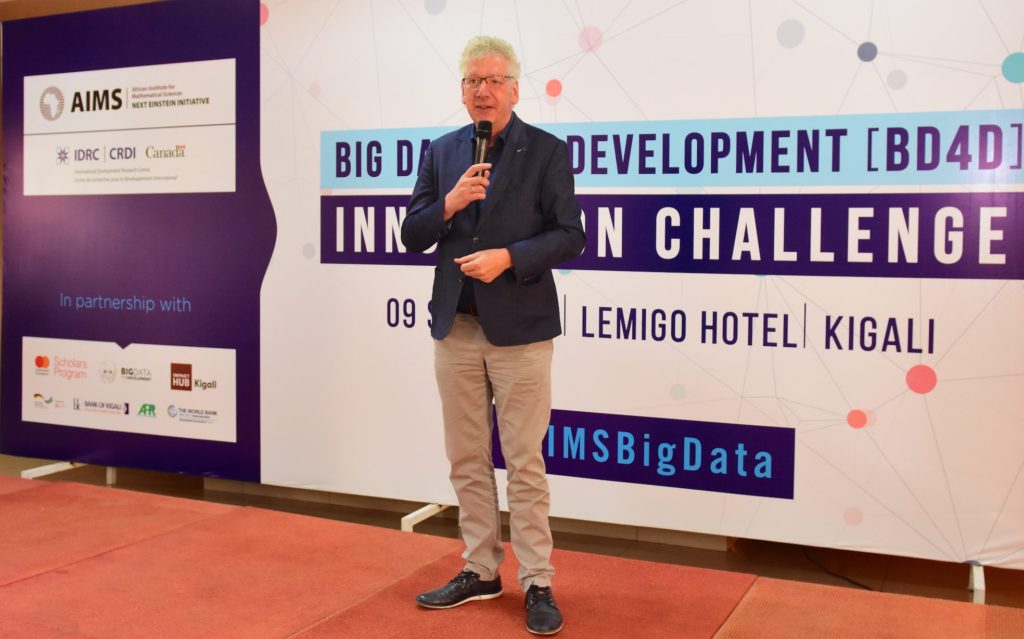 The other winning team was D4Impact, for the Best BD4D Solution, with a food security project that will be piloted in Rwanda. The team pitched an idea to develop an App that will inform health workers on dietary options, provide data on food prices and advise policymakers on the challenges of food prices. One member of the team, Aimé Césaire Musangamfura, said that his team will now start working on the first version of the product.
"Our solution aims to provide community health workers with the ability to promote nutrition. It's a balanced diet recommender system. Through the application, community health workers are able to assess nutrition needs and make recommendations for a better diet at the community level," said Mr Musangamfura, adding that the next phase of the application development will involve working closely with policymakers and nutritionist to gather data in order to strengthen the application's dashboard.
Beyond seed funding, the winning teams will receive mentorship support to continue developing and scaling up the solution over the course of two months.
The AIMS Industry Initiative team is gathering all relevant information to assess the implementation of the first edition of the BD4D-IC, document the lessons learned and package key outcomes. These resources will serve to leverage established partnerships to organize future editions.
For more information about the Big Data for Development Innovation Challenge, please send an email to aii@nexteinstein.org.