The vision of the African Union is to build an integrated, prosperous and peaceful Africa, driven by its citizens and representing a dynamic force in the global arena. This plan is achieved through several approaches, including efficiency and professionalism, information and knowledge-sharing, among other values. This vision calls for homegrown solutions and the retention of the best brains on the continent. In 20 years of its existence, the African Institute for Mathematical Sciences (AIMS) has trained over 3,000 students in mathematics and its applications. The exposure and training given to these students make them give out their best beyond their studies at AIMS. Today, over 800 of its alumni are dotted across universities in Africa, serving as faculty and researchers, while others occupy several managerial roles in industries. Many of these alumni are presently enrolled in PhD and MPhil programmes across the globe, intending to return to their home countries after training to impact their communities and the future of Africa. One such is Abu Bakr Elbukhari Mohamed Mohamed Tom, 2016 AIMS South Africa alumnus, and we highlight him as our #AlumoftheWeek.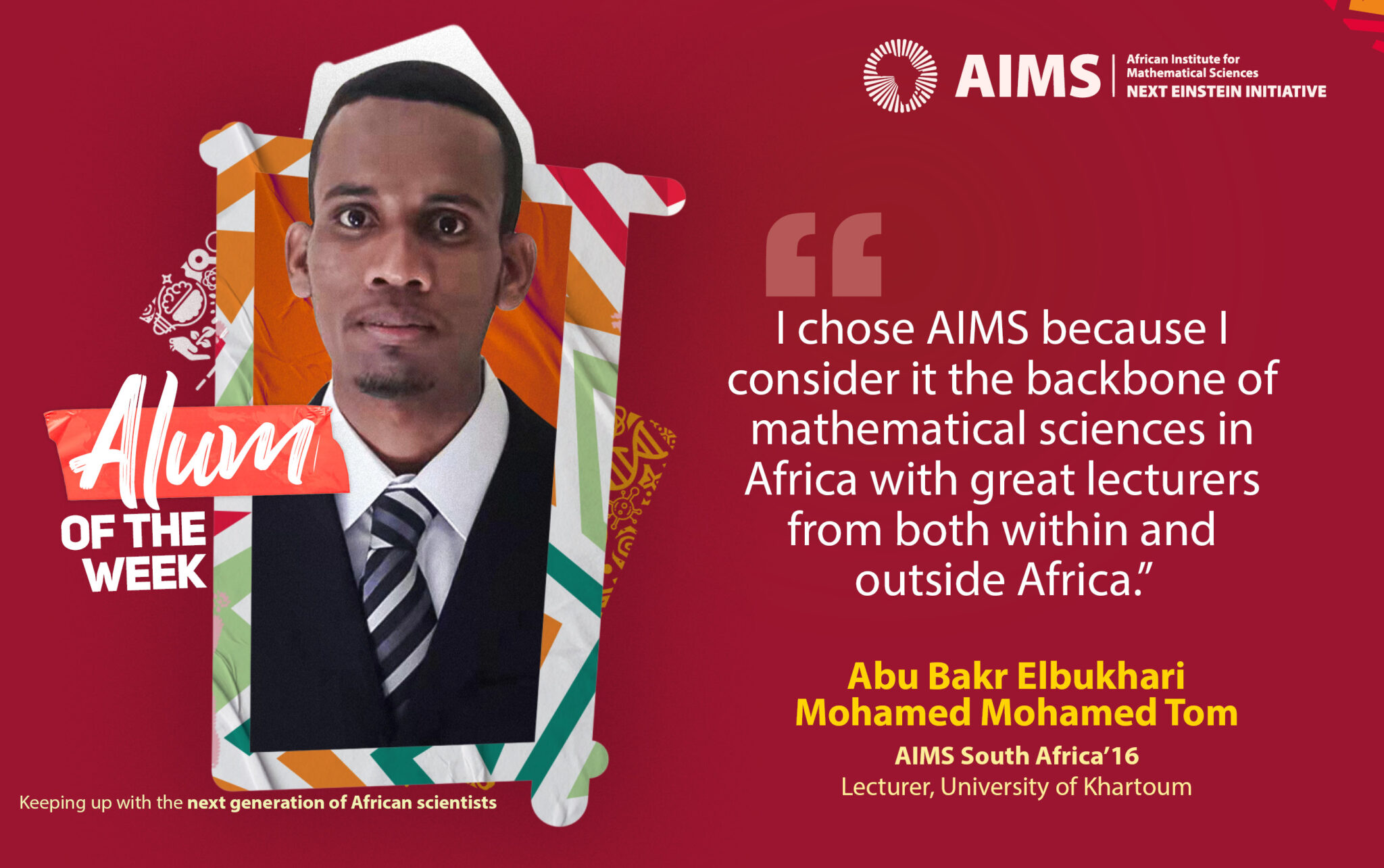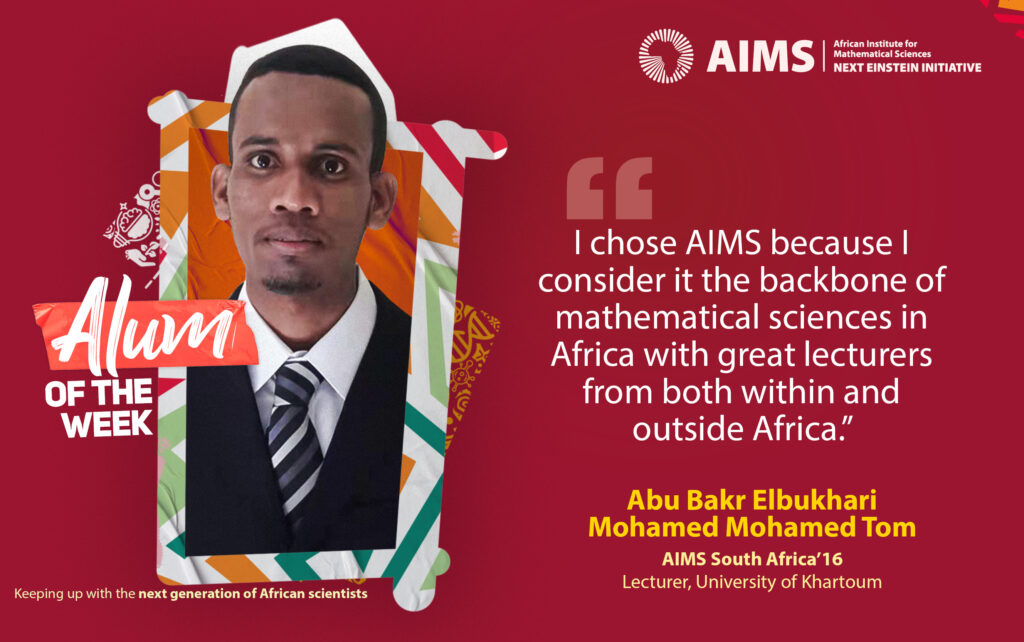 Abu had a humble beginning in a small village in Sudan. In his formative years, it took him more than an hour on foot to school due to the unavailability of one in his immediate community. But he found joy amid that hardship. He fell in love with mathematics which motivated him to aspire to higher heights. He graduated with first-class honours in Mathematics from the Faculty of Education at the University of Khartoum. In 2016, he joined the AIMS family in South Africa for his Master's in Mathematical Sciences.
"I chose AIMS because I consider it the backbone of mathematical sciences in Africa with great lecturers from both within and outside Africa. Upon arriving at AIMS, I appreciated the help of the administrative staff as well as the able tutors who spent quality time with students to get them to understand all concepts taught in class. AIMS was different, and I have not found the skills gained from here anywhere else."
Contributing back to Africa, Abu returned to Sudan after AIMS and served as a lecturer at the University of Khartoum. His skillsets at AIMS influenced his immediate promotion to the status of Senior Lecturer. Still working at the University of Khartoum, Abu has gained a PhD scholarship to Yangzhou University — China.
"The opportunities one gets at AIMS can take you to the highest height beyond your imagination. AIMS taught me several skills, including coding and programming skills, that greatly impact my work as one teaching in an African university. I strive to be my best for my students, just as AIMS gave me a transformative career experience."