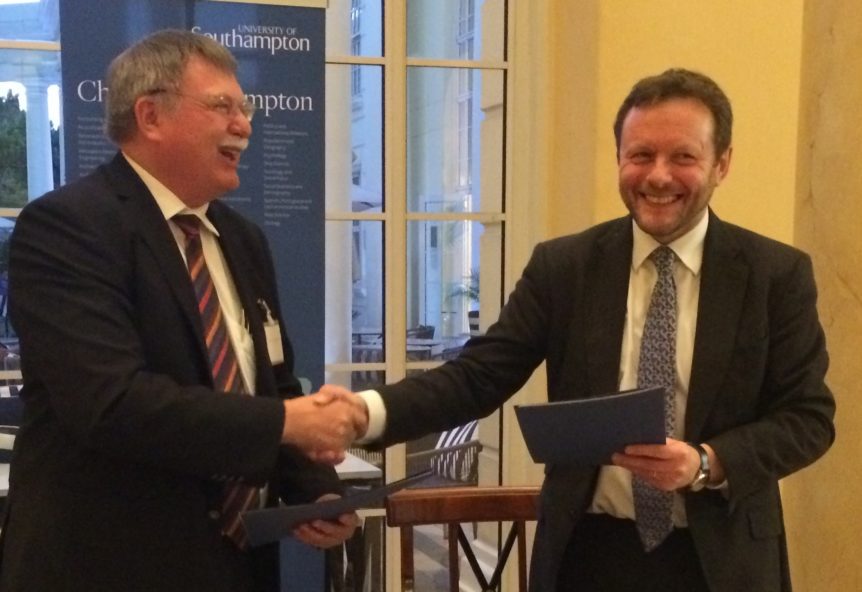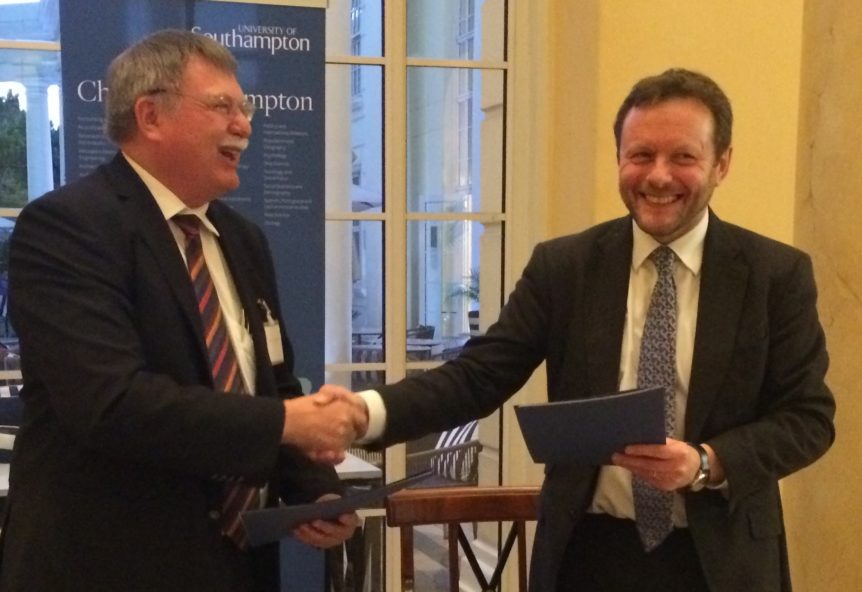 On 6 March 2017 at a special event in Cape Town, Prof. Barry Green, Chief Academic & Research Officer, AIMS-NEI and Prof. Colin Grant, Vie-President (International), University of Southampton (pictured above) signed a partnership agreement between AIMS and the University.
The partnership includes a funding contribution by the university to AIMS and built-in academic exchange items such as faculty travelling to teach at AIMS centres in Africa and supervising AIMS student research projects. At AIMS, the partnership will be managed as part of the ForExcellence partnership program.
Others in attendance at the event from the University included Prof. James Vickers, Director, Southampton Doctoral College and Professor of Mathematics, Mr Keith Johnstone, Director of International Relations & Development and Ms Melissa Gibson, Regional Director, International Office. From AIMS South Africa, Dr Bubacarr Bah, German Research Chair and Ms Linda Camara, Communications Officer, attended the event.
Prof. Vickers, Mr Johnstone and Ms Gibson also took the opportunity to visit AIMS South Africa on 7 March 2017. They were taken on a tour of the facilities, had a meeting with Prof. Green and Prof. Vickers gave a talk to AIMS students and researchers titled: 'Is time travel possible?'After which the visitors had tea with AIMS students, researchers and staff followed by talks by students and alumni and a presentation on the University.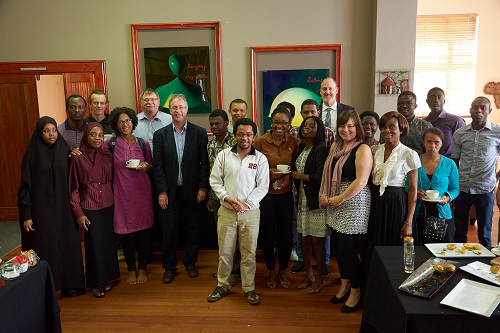 The delegation from Southampton at AIMS South Africa.
About the University of Southampton
Southampton is a research led British University in which teaching and learning take place in an active research environment. Southampton is committed to the advancement of knowledge through critical and independent scholarship and research of international significance; the communication of knowledge in an active learning environment involving staff at the forefront of their disciplines; and the application of knowledge for the benefit of society, both directly and by collaboration with other organisations.