The teacher-training programme seeks to improve the quality of mathematics teaching in Cameroon. Working in partnership with the government of Cameroon and its relevant agencies, the programme is improving the training of new mathematics teachers at pre-service level and providing professional development opportunities to in-service mathematics teachers through a "train the trainer" approach. This is based on the premise that teachers play a vital role in providing gender sensitive education at secondary school level. This training of mathematics teacher is required to increase the transition from secondary to tertiary education, particularly for girls.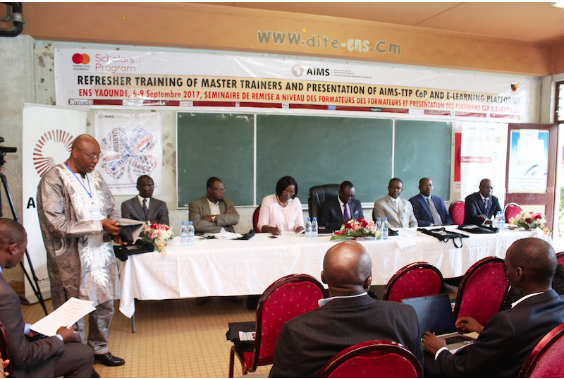 To complete the acquisition of these skills, a training was organized to train Master trainers on using the eLearning and CoP platforms. In this session, master trainers were equipped with requisite skills for online lesson delivery and moderation of online discussions.
To enhance participants' skills in managing for results, some sessions on Result Base Management (RBM) were also done. As part of the strategy to follow-up, there was a session on applying the acquired skills in the classroom, for master trainers to demonstrate expertise in acquired knowledge, skills and attitudes.
The staff of African Virtual University (AVU) trained these master Trainers on the e-learning and COP platforms and Joseph Ndiritu trained them on RBM.
This training took place from the 6th to the 9th of September 2017 in ENS Yaoundé. On the 4th and 5th, the TTP staff was also trained on how to use these platforms in order to assist on the ground if met with difficulty.
After the training, the Master Trainers will be able to:
Use the e-Learning platform to access resources for continuous learning
Use the CoP platform to share knowledge, resources, collaborate with each other and for continuous learning
Demonstrate mastery of RBM and its application in the attainment of intended results of TTP Cameroon
Demonstrate ability to train mathematics (pre-service and in-service) teachers on the skills acquired to improve teaching and learning of mathematics among secondary schools. Some of these skills include; preparation of lessons, real life applications of mathematics, gender responsive pedagogy in delivery of mathematics lessons among others.
The training was launched On Wednesday the 6th of September and had as Chairperson, the Rector of the University of Yaoundé 1, represented by his Vice, The Inspector General of Education in Cameroon, the Inspector General of Science, Mr. Jean-Paul Adjaba (TTP focal point at the Ministry of Secondary Education),The Director of Academic Affairs at the University if Yaoundé 1, the Director of ENS, home to the TTP and the Centre President of AIMS.
89 Master Trainers trained on eLearning and CoP platforms, RBM.
Training groups to carry out the training of teachers formed according to modules/training units
A schedule for carrying out the training of in-service teachers developed
A monitoring plan to monitor the training of the teachers developed
Out of the expected 89 Master Trainers expected, 85 attended, 9 women and 75 men.