Bending Spoons, a Milan-based technology company specializing in the development and marketing of mobile apps, and the African Institute for Mathematical Sciences (AIMS) are pleased to have launched the Synapse AI Symposium on 22 July 2002. The inaugural symposium provided an opportunity to address significant advancements and debate some of the most pressing questions facing humanity in the field of Artificial Intelligence.
Based on identified synergies and common interests, both organisations agreed to join forces to design and implement the Bending Spoons Scholarship for AIMS Students. This program aims to enhance inclusive access to quality education and applied research to build the capacity of the next generation of STEM leaders in Africa. Through this transformative partnership, Bending Spoons will provide scholarships for up to five (5) AIMS students – one student in each AIMS centre in Cameroon, Ghana, Rwanda, Senegal, and South Africa to study at AIMS and support their work-integrated learning placements.
Bending Spoons sponsored four (4) AIMS students, along with Dr Peter Szyszlo, Senior Program Coordinator (AIMS Canada) and Mr Denis Sagamba (AIMS Secretariat), to attend this groundbreaking event. The symposium provided the AIMS delegation with the opportunity to interact with globally respected voices in the field of AI and gain access to an expanded professional network.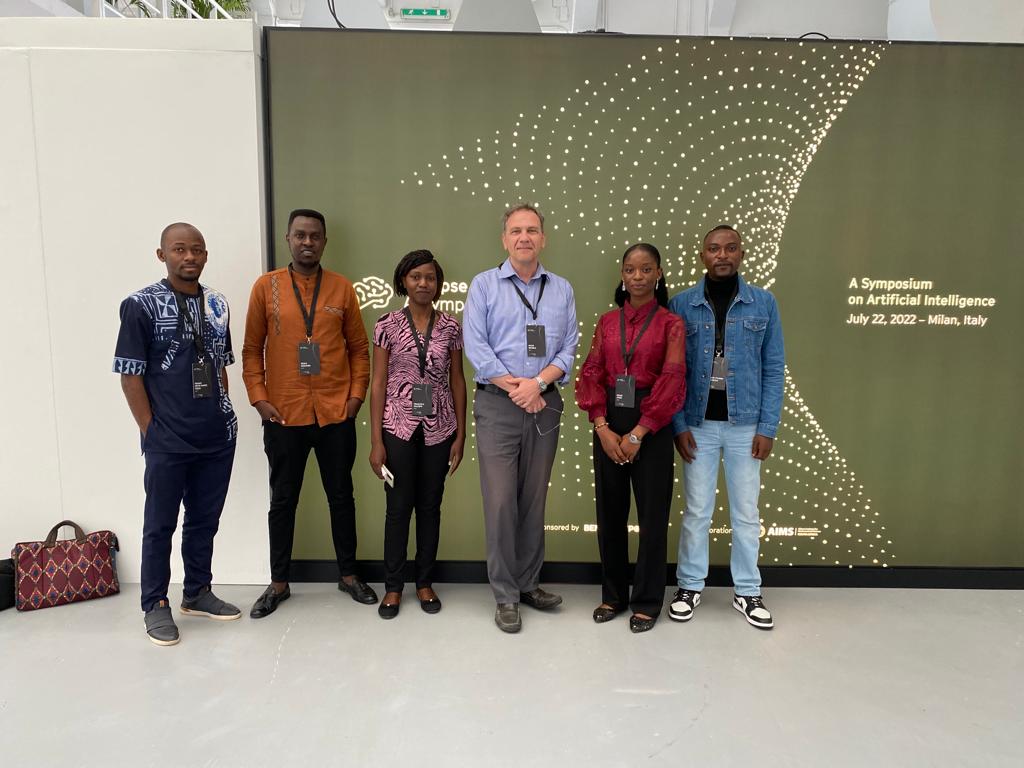 "The partnership between Bending Spoons and AIMS demonstrates the manifestation of both organisations to give voice to emerging young African data scientists and a common mission to advance AI. We look forward to developing work-integrated learning opportunities, which put AIMS graduates to task on some of the most pressing questions facing AI through the Bending Spoons Scholarship for AIMS Students program – Dr Charles Lebon Mberi Kimpolo, Director of the AIMS Industry Initiative and Head of Next Einstein Forum."
About Bending Spoons
Bending Spoons is on a mission to make an enduring positive impact on its customers, fellow Spooners, and society at large. Since its launch in 2013, Bending Spoons has served around half a billion people across the globe through its mobile apps. For more information about Bending Spoons, visit https://bendingspoons.com/.
About AIMS
The African Institute for Mathematical Sciences (AIMS) is a Pan-African network of Centres of Excellence for postgraduate training, research and public engagement in mathematical sciences. Founded in 2003 in South Africa and later replicated in Senegal, Ghana, Cameroon, and Rwanda under the framework of the Next Einstein Initiative, AIMS is supplying the STEM pipeline by training African students for a Master's in Mathematical Sciences, including a co-operative option with a direct link to industry. Students admitted at AIMS benefit from full scholarships and close interaction with tutors and professors worldwide. The faculty comprises volunteer professors from the best universities in the world, including Nobel Prize and Fields Medal laureates. For more information, visit www.nexteinstein.org.
Contacts: All enquiries about this partnership must be sent to aii@nexteinstein.org.