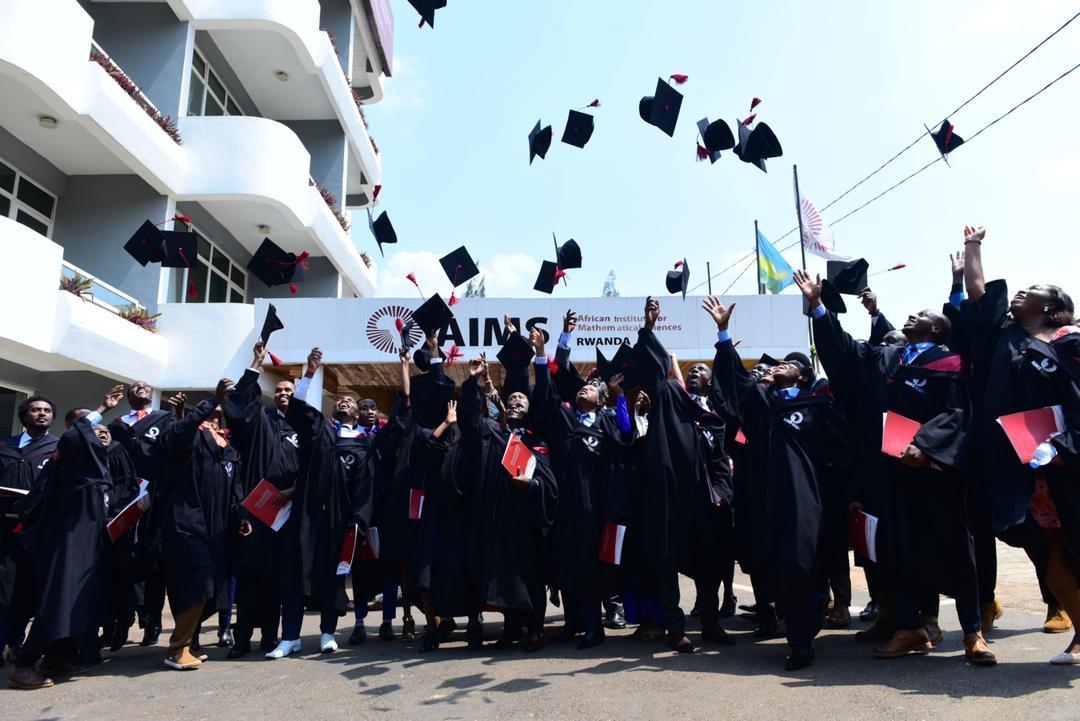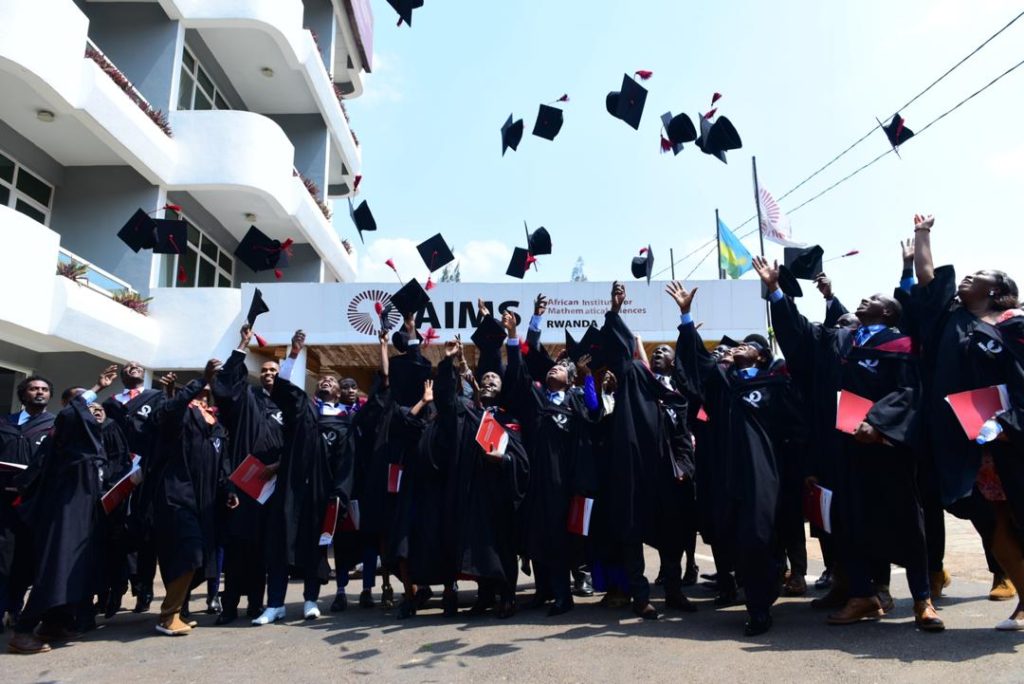 Kigali, Rwanda, 21 June, 2019-A decision by the government of Rwanda to support the establishment of an African Institute for Mathematical Sciences (AIMS) Center of Excellence in 2016, is helping build the country's profile as a STEM-education hub; today, 37 students from 13 African countries, graduated with the highly acclaimed AIMS Master's in Mathematical Sciences.
The graduation is the third since its establishment in Kigali and brings the total number of graduates to 79 students from over 30 African countries.
AIMS Rwanda's third cohort graduates pose with their tutors
AIMS runs a network of Pan-African Centers of Excellence located in South Africa, Cameroon, Senegal, Ghana and Rwanda. A total of 173 students are graduating this month from all AIMS centers.
"Today, we are graduating 37 students from thirteen African countries, including eleven from Rwanda after successfully completing a Master of Science in Mathematical Sciences.
At least 25 of the graduating students majored in climate sciences, a branch of mathematical sciences that we introduced this academic year to combat the global challenges posed by climate change," said Prof. Dr. Sam Yala, Centre President AIMS Rwanda.
Prof. Sam Yala addressing the AIMS Rwanda 2018-2019 graduation class.
The Climate Science major is aimed at making AIMS Rwanda a hub of excellence in climate change research and adaptation, to create and disseminate knowledge on the major threat to humankind.
To that end, Prof. Yala revealed that AIMS Rwanda will establish the first Research Chair in Climate sciences scheduled to start in August this year.
Research Chairs are world-class scholars whose positions receive specific support towards addressing a cause of global importance such as Climate Change.
By establishing a Climate Science Research Chair, AIMS Rwanda seeks to attract and retain the best researchers on the topic and consolidate the center as an institutional thought leader on Climate Change mitigation.
The AIMS Centre is also helping consolidate Rwanda's profile as a hub for Academic Tourism. This year, the graduating students represent 13 different African nationalities including DRC, Cameroon, Kenya, Tanzania, and Sudan.
Nosiba Elfadil Mohamed Elfadil, one of the students that graduated today is from Sudan. She said, "My goal is to work with a research center to advance new knowledge towards solving Africa's challenges using numerical methods and computer."
Daniel Kwabena Marrifrom Ghana said, "I am happy to be graduating today. My goal is to improve the knowledge in biological mathematics incorporated with climate science among the younger generation through lecturing."
"Many young people in my country fear Maths so after AIMS, I'd like to pursue a PhD & become a lecturer to encourage young students especially women to love it," said Oluwatosin Abigail Ojo, from Nigeria.
Mr. Alex Bahizi, the Managing Director of BK General Insurance delivered the Keynote address on behalf of Dr. Diane Karusisi, the BK Group CEO. He noted that at the heart of the African transformation agenda is the need to invest in human capital.
"Although Africa has vast natural resources, the continent's most important resource is its young people in whom we need to invest and build their capacity to lead Africa into the 4thRevolution; I am proud of the role that AIMS Rwanda is playing in this regard," said Bahizi.
Mr. Bahizi also reaffirmed BK Group's commitment towards its partnership with AIMS Rwanda covering aspects of Data sharing for research, and offering practical internship opportunities for students and place them in an environment to advance innovative solutions to real life challenges.
"To you the graduates, a lot is expected of you; the knowledge and skills you have acquired at AIMS Rwanda are critically needed on the market. Therefore, as you head out of here, I implore you to be champions of innovation and agents of transformation wherever you end up
Dr. Theoneste Ndikubwimana, the Academic Quality, Accreditation& Standards at the Higher Education Centre (HEC) represented the Rwanda Minister of Education, Dr. Eugene Mutimura.
He said, "On behalf of the Ministry of Education, I am happy to note that the main objective of establishing the AIMS Center in 2016 in Rwanda, is being achieved.
The 37 students graduating today are leaving with advanced mathematical sciences skills and knowledge that they will use to help advance solutions towards the transformation of our continent including Rwanda. I also want to applaud the contribution of AIMS Rwanda towards the promotion of girls in Sciences.