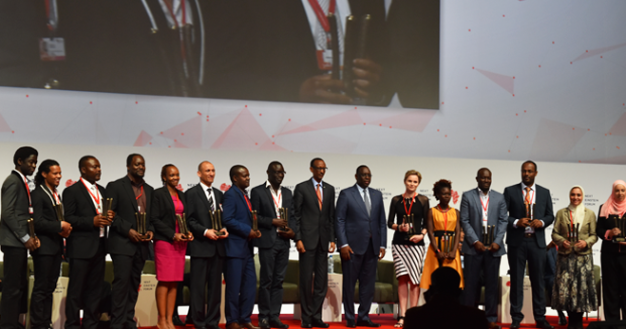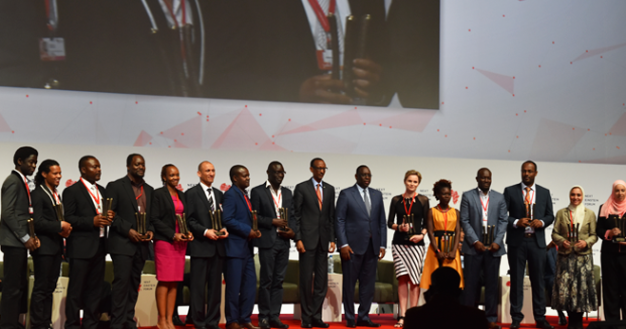 The Next Einstein Forum (NEF) is an initiative of the African Institute of Mathematical Sciences (AIMS), which was founded by the leading South African physicist, Dr. Neil Turok. NEF is a convener of thought leaders in science, policy, industry and civil society from across Africa and the international scientific community to leverage science and technology to solve global challenges. NEF was launched by AIMS and the German Foundation, the Robert Bosch Stiftung in 2013, as a global forum for science in Africa.
The 2016 Global Gathering took place in Dakar, Senegal on March 8 – 10, 2016 and brought together more than 800 stakeholders from across the science, technology, engineering, and mathematics (STEM) fields. It further showcased the talent of African scientists and innovators, highlighting the laudable achievements of 15 of the continent's top young scientists and NEF Fellows.
H.E. President Macky Sall (Senegal) and H.E. President Paul Kagame (Rwanda) presented merit awards to the NEF Fellows, who are leading innovative research to address some of Africa's critical health and development challenges. They further pledged their support to invest in science, technology, and innovation in their respective countries, with deliberate efforts geared towards increasing the number of female STEM professionals. In his opening remarks, the Hon. Minister of Higher Education and Research of Senegal, Mary Teuw Niane expressed his belief that Africa can become a global scientific hub and that African governments should provide the necessary funding and infrastructure to make this a reality. The Hon. Ministers of Science and Technology Dr. Naledi Pandor (South Africa) and Dr. Ogbonnaya Onu (Nigeria) further discussed the plans of their respective governments to boost science and technology education and technical training. Thierry Zomahoun, Chairperson of NEF, and President and CEO of AIMS noted that the Forum was created to drive continent-wide collaboration and to build a strong STEM ecosystem in Africa, while showcasing the impressive pool of rising and established STEM talent. Participating scientists from across the globe presented their breakthrough research and innovations, while private sector participants, including Johnson & Johnson, Philipps, Wellcome Trust, and IBM shared their plans to continue to support research and innovation across Africa.
The Forum further provided a platform for 11 African innovators to pitch their projects during the Challenge of innovation to invention (Ci2i) session. Seema Kumar, Vice President, Innovation, Global Health, and Policy Communication at Johnson & Johnson moderated the competition. Ms. Kumar noted that, "African scientists demonstrated to a distinguished global audience an undeniable reality: that Africa is rising, coming of age, and is here to show the world a new face – not of poverty, disillusion, and famine – but of self-sufficiency, hope, and sustainability." Moses Bangura, Founder of Rokel Delivery Services (RDS), emerged the winner of the innovation challenge with his drones, which deliver urgent life-saving health care to communities in need.
The Visiola Foundation was pleased to participate in the stimulating discussions, while sharing its own experience in creating opportunities for marginalized girls and young women to pursue STEM careers. Two of the Foundation's scholars, Omolara Kassim and Rachael Asaolu, were invited to participate in the Forum where they were inspired to continue working hard towards becoming leading scientists in their own right.
This article was published on the Visiola website. For more about Visiola, click here.