The AIMS Ghana Leavers' Week Hackathon was designed to equip students with the necessary skills to tackle real-life problems. The hackathon was explicitly limited to the design thinking strategies that aid practical analysis and idea sourcing for solutions to challenges. It was also a moment to create a space for alumni to interact with soon to be alumni.
Based on the program's focus, participants were asked to select their areas of interest linked to some selected SDG's, after which they were placed into groups for the event. Of the 26 who registered, 11 chose to work on Industry, Innovation and Infrastructure (SDG 9), 10 worked on Quality Education (SDG 4) and 5 worked on Climate Action (SDG 13).
Commencing the event, the program partners, Design Thinking Hub Ghana, took the participants through the basic design thinking concepts. These were in five stages and included Empathy, Define (the problem), Ideation, Prototyping and Testing. They spent the first day with the participants going through the first three stages. Participants brainstormed and shared ideas within and across groups as part of the exercise to clearly define their challenges and solicit ideas to bring about solutions. The program started with an opening address from Mr. Sampson Kofi Adotey, Manager, Alumni Relations and Research Reporting who welcomed the participants and the program partners and outlined the event's purpose. Janet Osaye Fadekemi (PhD), an alumna of AIMS Ghana, joined in to give a talk on delivering Quality Education. She highlighted the current challenges in education and how we can use modern technology to mitigate these problems. Finally, there were discussions on what an ideal educational system should look like as she shared experiences within her research field.
Day two continued with the other two stages of the design thinking process. After a review of the previous day's lessons, teams resumed brainstorming and hacking through their ideas for solutions. They selected their best ideas out of the lot and moved on to prototyping and testing, based on all the lessons and knowledge they had been exposed to, over the last two days. Participants were then asked to present their ideas and solutions on cardboards and other materials for the pitching session. Among the judges were Dr Gandomé Mayeul Léger Davy Quenum, a Postdoc research fellow in Climate Change Science, AIMS Ghana and Mr Seth Afari-Boateng, AIMS Ghana, AIMS ESMT Alumnus and the Country Office and Spare Parts Admin at Thyssenkrupp Industrial Solutions, Africa. Others were Ms Dzifa Acolor, an Operations Coordinator at iWASH Africa and Mr Eugene Eluerkeh, a representative from Design Thinking Ghana Hub.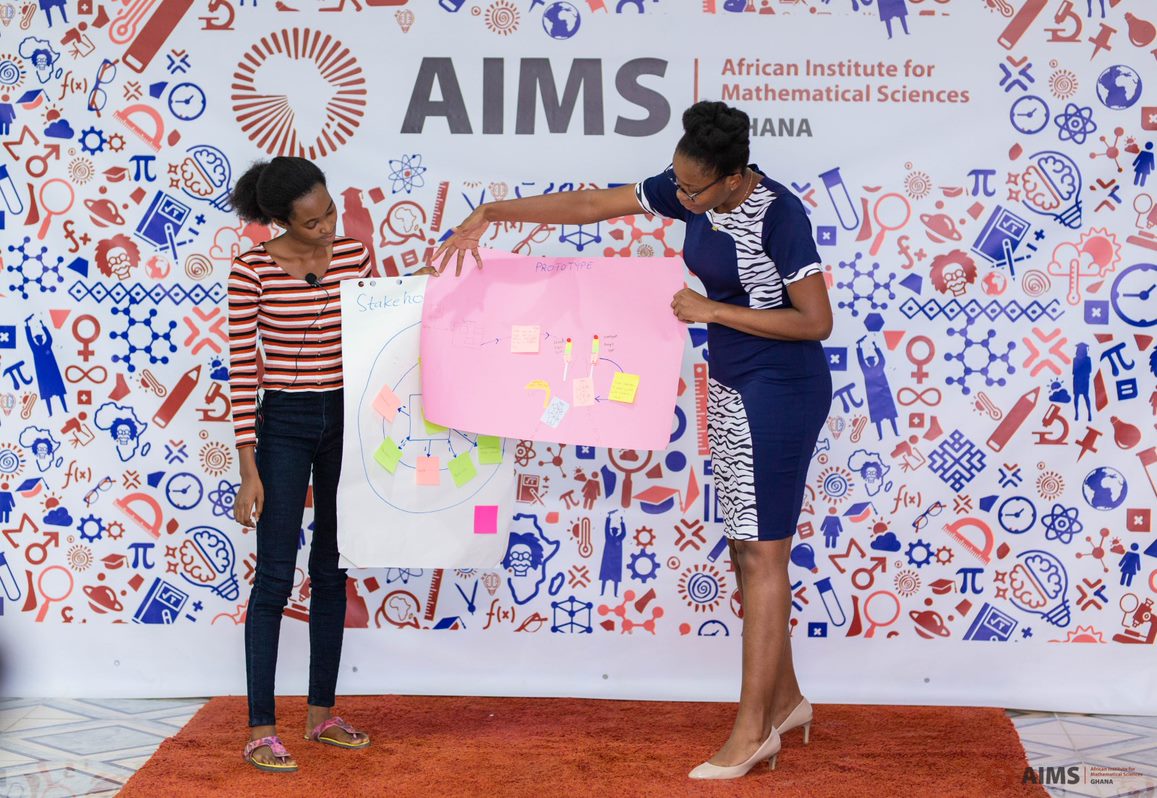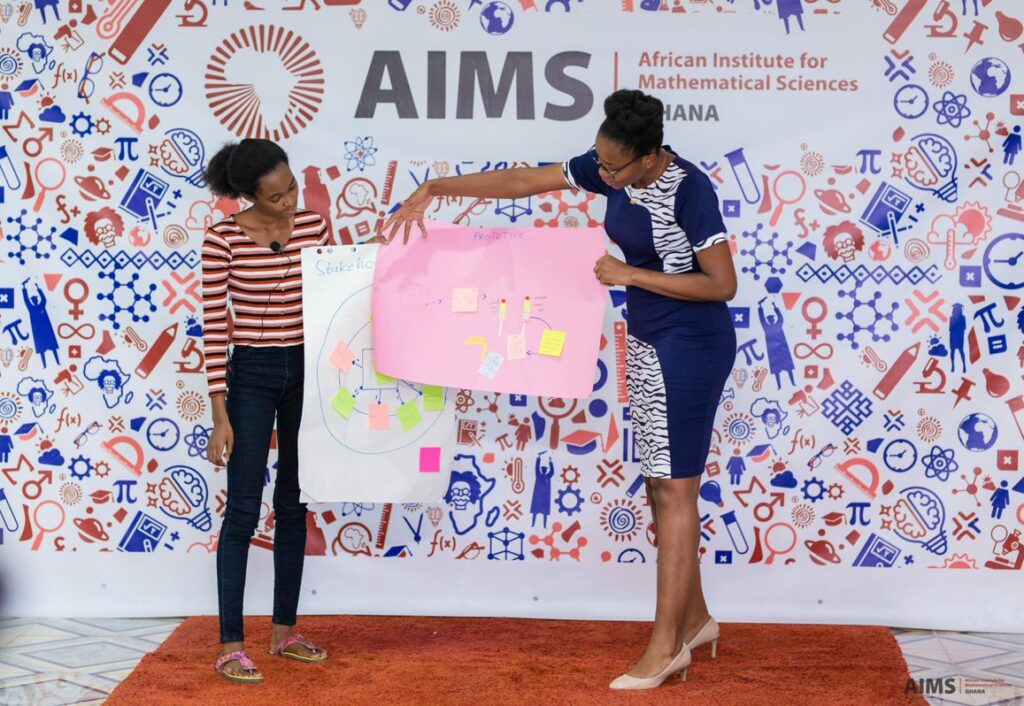 Four teams presented their work and some of the creative ideas that came out were:
Developing an AI-powered four-traffic light management system that will control traffic in Accra and increase productivity to contribute to the goals of SDG 9.
The construction of a consultancy firm to engage construction companies in research-informed eco-friendly alternatives in cement-based projects to reduce greenhouse emissions as a way of meeting the goals of SDG 13.
The creation of a website for grooming and training mathematics graduates for industrial purposes; an alternative that will be localized to Ghana and the African economy to support both SDGs 4 and 9.
The first-place team was given a cash prize of Seven Hundred Ghana Cedis; the second received Five Hundred Ghana Cedis; the third received Three Hundred Ghana Cedis; and finally, the fourth-placed team, Two Hundred Ghana Cedis. Certificates of participation were also awarded to the attendees.
The Science Slam Session
The Science Slam component of the Leaver's week event was a moment for some interested students to present their research work in plain language such that it is more relatable and practical. The audience present judged the various presentations and voted their top three presenters. Mr Tijah Bah, who presented on vector spaces, emerged as the ultimate winner, with Miss. Rebecca Gyamfi-Koranteng who presented on financial networks placing second and Miss. Oluwayomi Akinfenwa, who presented on the Epidemiology of Gonorrhea placing third.