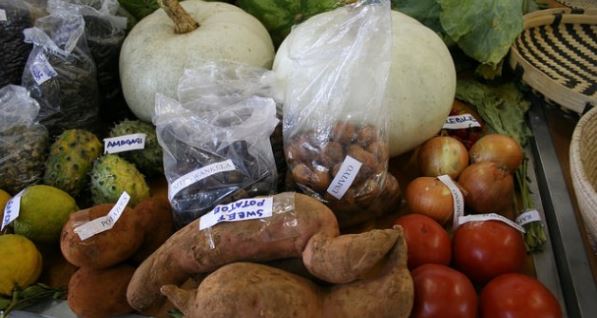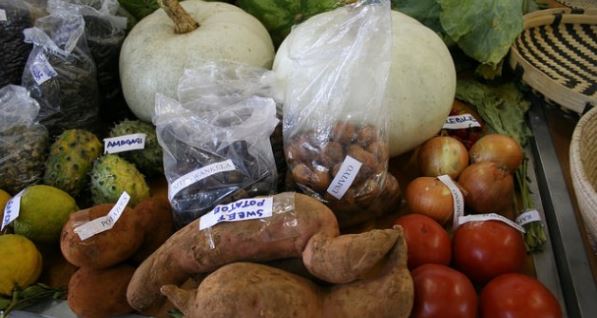 Scientific research can help solve food security issues in Africa.
The tonnes of uncollected garbage piling up on the streets of her home in Cairo was a brain wave for Sherien Elagroudy.
Elagroudy has since developed a facility to transform waste into alternative solid fuel for use by cement companies. This has helped reduce the frequency of power cuts to save on electricity, and contributed to a much cleaner city by transforming waste materials into new materials or products of better quality and value than the originals.
If Elagroudy's ideas were transformative for the community, Alex Ngonga-Nomo's approach to processing Big Data had even wider implications.
Ngonga-Nomo, a research scientist from Cameroon, developed a way to manage large amounts of data at web scale, allowing organisations to access and analyse information for applications in bio-medicine, agriculture and education more efficiently and intelligently.
And from Nigeria, Dr. Tolu Oni is taking a holistic approach to addressing and preventing ill health in Africa's fast urbanising cities. As a physician, Oni had treated patients with recurring preventable illnesses, only to see them return to the environments that undermined their ability to stay healthy.
"This left me feeling unable to make a significant, long-reaching impact within the walls of the clinic," Dr. Oni told IPS. "It drove my desire to apply my public health medical training to look further upstream at why they were repeatedly presenting with illnesses in the first place."
Her current project, dubbed the Research Initiative for Cities Health and Equity (RICHE), looks at urban health inequity and aims to identify creative strategies to address complex population health and broader societal challenges through a coordinated and intersectoral partnership between academia, civil society and government.
Elagroudy, Ngonga-Nomo and Oni share more in common than being African. They are some of the new and growing generation of researchers who have developed smart science solutions – which, given a chance, can transform Africa's economic, social and environmental landscape.
Sadly, many of Africa's finest minds are plying their talents in foreign lands because of poor investment and development of professional in the areas of science, technology, engineering and math (STEM).
Scientific research, including proper waste management research, is an important tool for social development and economic progress of any country, but Africa is not seriously investing in STEM professions.
"Africa is facing major challenges, among which are food insecurity, public health and private medicine, water scarcity, climate change and poor waste management, but science could have solutions for these challenges – if we invest in it," said Elagroudy, who has promoted solid waste management through the environmentally sound "upcycling" process.
"Almost everybody in Africa has practiced upcycling at home," she told IPS, explaining that upcycling is a deep-rooted collective human behaviour and reduces the waste into landfills and pollution of ground and surface water.
Africa generates 62 million tonnes of municipal solid waste annually. Africa's waste also has the highest organic content of any continent, estimated at about 53 percent and equating to 33 million tonnes of food waste every year.
"A problem that faces R&D in Africa is that research priorities are set outside the continent without any alignment to the needs of the continent," Elagroudy said. "We need to ensure that funding from international partners complements government funding because local funding ensures research in Africa meets the continent's pressing needs."
Despite training these technologically savvy, innovative and ambitious scientists, Africa cannot keep them – much to the disadvantage of its own economic growth, and a gain for foreign institutions.
Africa is losing four billion dollars annually outsourcing STEM jobs to foreign professionals, according to the Next Einstein Forum (NEF), an initiative of the African Institute for Mathematical Science (AIMS) launched in 2013, in partnership with the German foundation Robert Bosch Stiftung. The NEF brings together more than 500 outstanding thinkers around the world to showcase Africa's scientific contributions and change perceptions about the continent.
Africa is deficient in scientific infrastructure and students going into STEM fields because of colonial priorities and poor investment by African governments. As a result, when African researchers do not find adequate resources and infrastructure to do cutting-edge research, they leave for greener pastures.
This brain drain means that even when governments invest in increasing quantity and quality of STEM education, researchers are recruited outside of Africa, says Theirry Zomahoun, executive director of AIMS and NEF chair.
Zomahoun said most advanced and emerging economies are heavily dependent on the use of mathematical sciences.
"What about Africa? Unless drastic steps are taken by all stakeholders, including the private and public sector, Africa's positive trajectory of growth may come to a grinding halt," Zomahoun warned. "Beyond just consuming technology, Africa must produce its own knowledge and develop it."
The NEF, Zomahoun told IPS, was created to attract private sector investment in STEM education, research infrastructure and most importantly, development. Africa also needs to revitalise its higher education systems to produce graduates who are critical thinkers and problem solvers, he said.
Currently no country in Africa spends more than one percent of GDP on research and development, unlike Israel and South Korea, which invest three and four percent of GDP into research and development, respectively.
In 2007, African Union member countries pledged to invest one per cent of their GDP by 2020 in science and research, an ambitious bid for science-led development. Unfortunately, African governments have not met this research investment target because of conflicting development priorities.
"The output of African universities in science suggests that something is definitely wrong," Alex Ngonga-Nomo who has researched on global problems of efficient access to data in Africa told IPS.
"Either we do not invest enough or the investments are misplaced. I think we should aim to create centres of excellence where promising scientists are given the opportunity to research innovative questions and renowned scientists can share their knowledge and achievements."
According to the United Nations Educational, Scientific and Cultural Organisation (UNESCO), Africa needed to produce 2.5 million new engineers and technicians to be able to meet the Millennium Development Goals (MDGs) in 2015. Currently, there are more African engineers working in the U.S. than on the entire African continent. Similarly, there are less than 2,000 PhD holders in mathematical sciences in Africa.
Africa's loss of skilled professionals was the subject of a landmark conference – the NEF Global Gathering – convened in Senegal in March this year, which sought to find solutions to Africa's scientific research deficit.
Through its International Basic sciences Programme (IBSP), UNESCO has endorsed the NEF to serve as a significant building block for Africa to emerge as the next hub for global science, technology, innovation and youth entrepreneurship.
Scientists say Africa can easily solve many of its development challenges by retaining its best brains and giving them the resources to bring their excellent ideas to life.
Paul Kagame, the president of Rwanda, which has been chosen to host the NEF Secretariat, agrees, noting that Africa has been bypassed by three industrial revolutions.
"The pressure is on to catch up and keep pace so Africa is not left in the wake of technological progress," Kagame told the inaugural NEF Global Gathering in Africa, which attracted 700 mathematicians and scientists from 80 countries. "This starts with a change in our mindset…and the key to that is science and innovation, bound by research."
Written by Busani Bafana, this article was published on the Inter Press Service website.