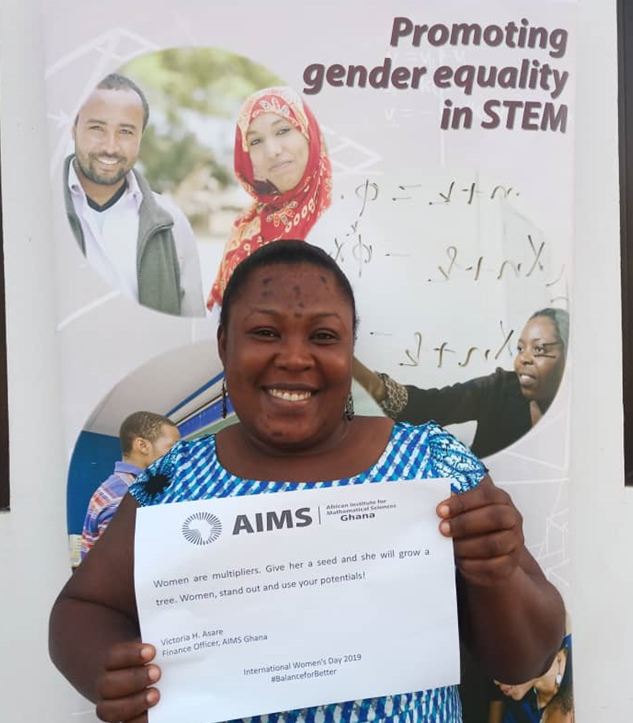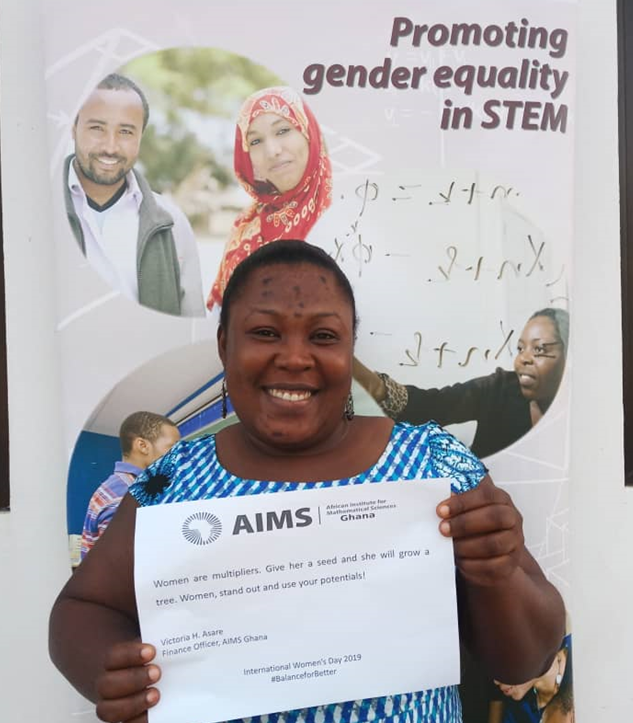 How International Women's Day was marked across AIMS Network
Friday was the International Women's Day (IWD) celebrated around the world under the theme, 'Better the balance, better the world.' At the African Institute of Mathematical Sciences (AIMS), and the day was honoured in style at our centers across Africa. Below are some pictorial highlights.
Across the AIMS network social media platforms, employees at different levels shared their thoughts on why gender balance is an important agenda for a better world. These thoughts were shared in form of pictures of individual employees holding a placard on which their thoughts were typed out and shared across the AIMS social media platforms under the hashtags; #IWD2019 #BalanceforBetter.
At the AIMS Rwanda Centre , a panel discussion was held under the IWD theme, "Balance for Better" in relation to people in the field of mathematical sciences, higher education and society in general. Panelists included Dr. Herine Otieno, Director of AIMS Teacher Training Program in Rwanda & researcher in education, Dr. Marie-Christine GASINGIRWA, Quality Development and Enhancement Analyst for the Higher Education Council, and former Director General for Science, Technology and Research (DGSTR), and Professor Corina Constantinescu, Director of the Institute for Financial and Actuarial Mathematics at University of Liverpool.
The main takeaway from the discussion was while a lot has been achieved in the academia, it is still a work in progress that requires men and women to continue working together in achieving the desired gender balance.
AIMS Cameroon hosted female science students from four local secondary schools including Saker Baptist College, Government Bilingual High School, New Horizon International High School and St. Anne High School to an event where the guest speaker was Justice Vera Nkwate Ngassa, the Lord Justice and Vice President of the court of Appeals, Cameroon. She emphasized the importance of gender equality, diversity and inclusion stating that gender inequality is still prevalent, highlighting gender related issues such as the difficulties faced by women to penetrate key administrative positions due to discrimination set by culture and society on the female gender. 'Women need to be involved in important decisions concerning the female gender,' she remarked. Her remarks were echoed by Ms. Lois Ikome, Deputy Registrar, Cameroon GCE Board in charge of Examinations who used her life as an example to motivate the young women into STEM. "What you think is what you become. If you don't think it, you cannot become it,' she said.