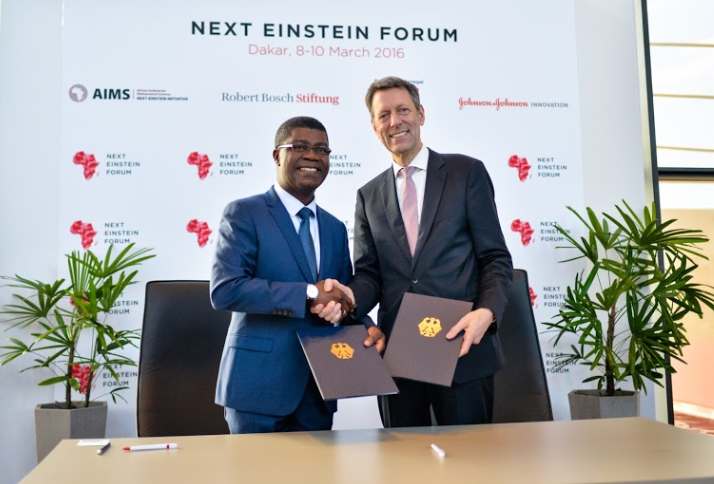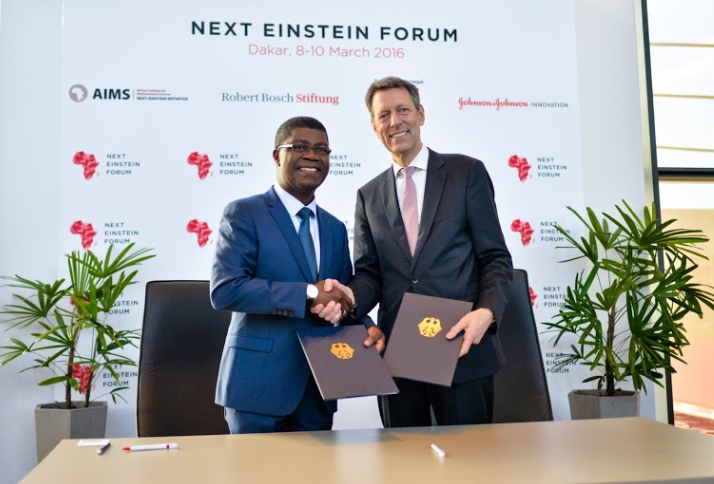 Berlin, March 29, 2016 – The African Institute for Mathematical Sciences (AIMS) and the German Federal Ministry of Education and Research (BMBF) signed a Joint Declaration of Intent to establish five research chairs for Applied Mathematics in Africa. The BMBF is funding each German Research Chair over a period of four years with a total sum of Euro 9m. The goal, however, is to develop their own competence centres and to be independent of German funding in the long term. Thierry Zomahoun, President and CEO of AIMS, and Dr. Georg Schütte, State Secretary of the German BMBF agreed that there is a great demand and potential for well-trained mathematicians and a strong research community in Africa. To be located at the AIMS centres in Senegal, Ghana, South Africa, Cameroon and Tanzania, five professorships in applied mathematics – the 'German Research Chairs' will be established by the Alexander von Humboldt Foundation.
"Our long standing partnership with the German government continues to grow with this landmark commitment to propel scientific research. We believe that collaboration in science between African scientists and their global counterparts will enhance the kind of research that will lead to solutions for global challenges," said Thierry Zomahoun, President and CEO of AIMS-NEI.
Dr. Georg Schütte, State Secretary of the German BMBF, said "With AIMS, we attract young African talents for mathematics and all subjects based on it. We support them in these institutions so that they think ahead independently, solve problems and make Africa's scientific and economic future. "
The German Research Chairs will undertaking research at the highest scientific level. In cooperation with the German Academic Exchange Service (DAAD), the German Research Chairs will participate in a lively exchange with German universities and other research institutions to create sustainable science structures, in addition to an international network. The Chairs are connected to at least one local university.
About AIMS:
Established in 2003, the African Institute for Mathematical Sciences (AIMS) is Africa's first network of centres of excellence in mathematical sciences. We enable the continent's youth to shape the continent's future through Science, Technology, Engineering and Maths (STEM) education- training Africa's next generation of leaders. We have five centres of excellence across Africa- in South Africa, Sénégal, Ghana, Cameroon, and Tanzania. The AIMS Next Einstein Initiative is working to operate fifteen centres of excellence across Africa by 2023.
Contact:
AIMS-NEI Germany gGmbH
Patrick Hoese
Email: phoese@nexteinstein.org
Mobile: +49 1575 53 20 456