The African Institute for Mathematical Sciences (AIMS) recently welcomed new student cohort for the academic year, 2019-2020, at its pan-African network of centres of excellence in Cameroon, Ghana, Rwanda, Senegal, and South Africa. The new student cohort comprises 240 students from across Africa, 35 per-cent of whom are female. 
The students have enrolled as follows at the different centres:  48 at AIMS Rwanda, 46 at AIMS Ghana, 49 at Cameroon, 40 at South Africa and 57 at AIMS Senegal. 
The students will undergo a year-long study programme to sharpen their skills in mathematical sciences. 
"With the usual mix of exciting classical and new topics ranging all over the mathematical sciences, we are looking forward to see a new class of young, talented Africans learn, have fun and get ready to bring their contribution to tackle the Continent and the World's challenges," said Professor Marco Garuti, AIMS Cameroon Academic Director.
Through its network of centres of excellence, AIMS seeks to enable Africa's talented students to become innovators driving the continent's scientific, educational and economic self-sufficiency.
"Our mission is to enable Africa's brightest students to flourish as independent thinkers, problem solvers and innovators capable of propelling Africa's future scientific, educational and economic self-sufficiency," said Thierry Zoumanan, President and CEO of AIMS in a welcoming statement to the new students.
It was notable that many students had heard about AIMS from alumni, including course lecturers at home who had studied at AIMS. These alumni ambassadors even included a member of the 2003 AIMS intake, the first group of AIMS students. Students spent the week getting to know the centre and surroundings and this included a hike. There were also presentations from researchers in the AIMS Research Centre and meetings with staff, research students and January intake Structured Master's students."
Dr. Youssef Travaly, AIMS Senegal President said the year long study programme aimed to equip the students with critical thinking skills.
"At AIMS Senegal, our mission is  to foster in our students' critical thinking, scientific and technology-based learning as well as active engagement with civil society and industry. We also strive to  enable recent African Ph.D. and Post-Doc researchers to conduct cutting-edge research in mathematics and its applications. We are looking forward to an exciting year with our new cohort of Africa's future problem-solvers," said Travaly.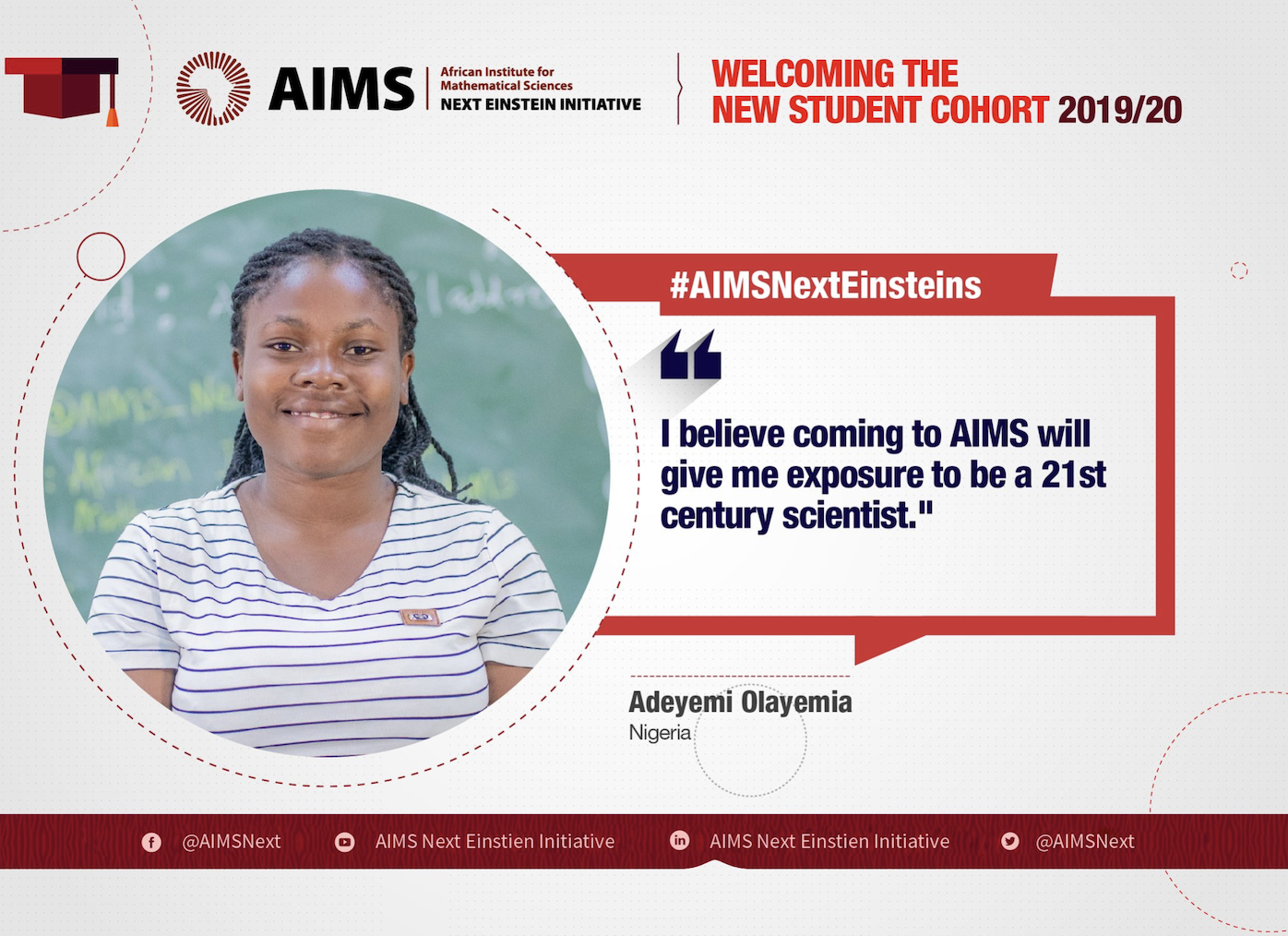 Prince Koree Osei, Interim President of AIMS Ghana said that the AIMS study programme was one of a kind in Africa.
"AIMS is  a unique family and once you join, your success becomes our priority-we never give up on you till you succeed," said Osei.
Students
In an interview, one of the new students, Tiofack K. Marc Aurele from Cameroon said that he is inspired by AIMS' Pan-African spirit interesting and was intrigued by the cross-cultural element at AIMS. He said that knowing other people's cultures is important in the development of the continent. 
"I chose AIMS, so that I can deepen my math in order to contribute to the science physics and my choice for Rwanda came naturally because of the many good things I heard about it," said Aurele.
Angela John Nyagate, said that she is very glad to be part of such a friendly institution. She added that she was also very excited to find out that staff and teachers come from different countries.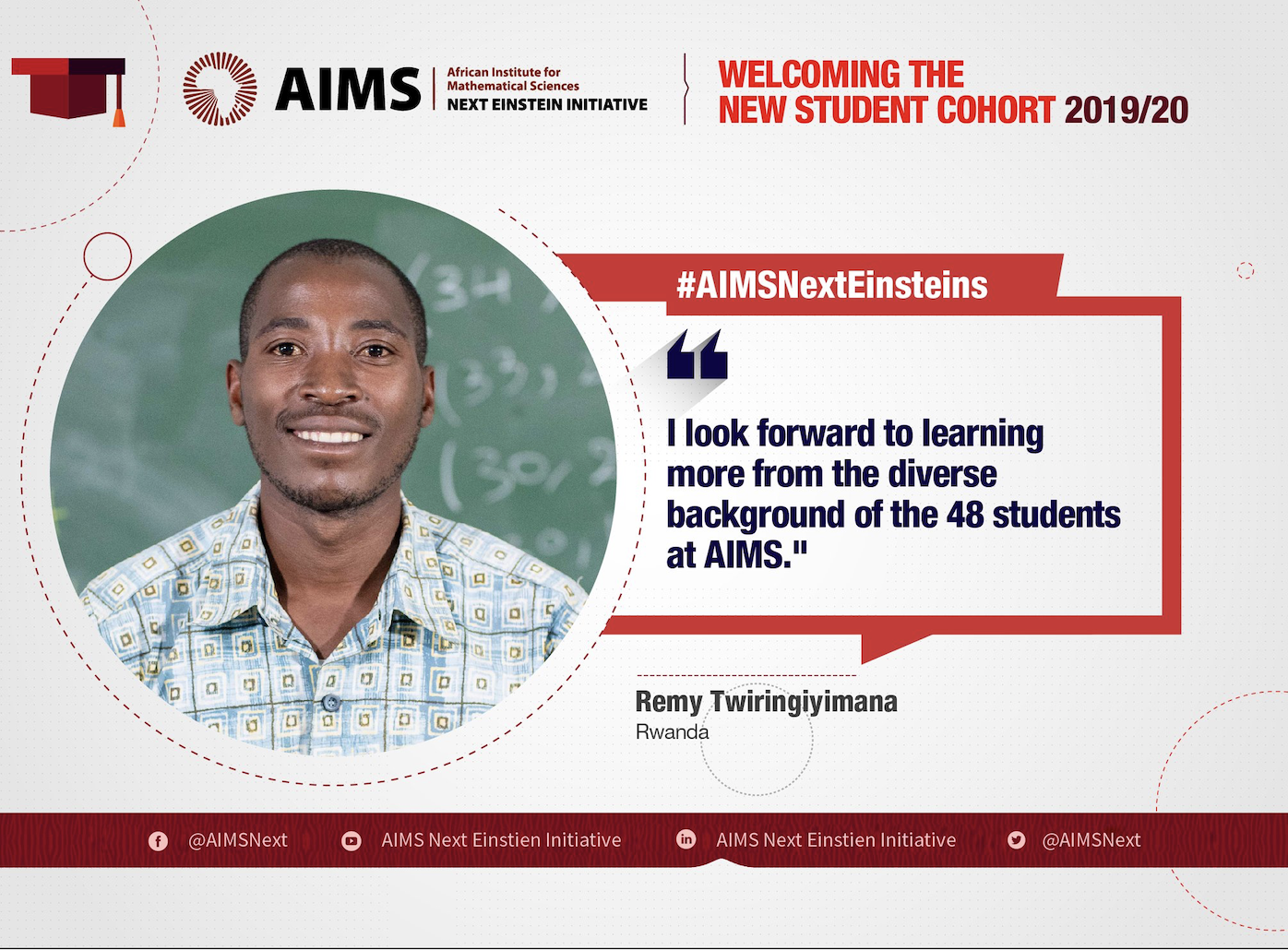 "I am eager to start solving problems which will enable me to go an extra mile to give the best results and I am excited to be in Rwanda," said Nyagate
Peter Kyeremeh, a student from Ghana, said that enrolling at AIMS was a dream come true.
"It is a highly opportunistic environment to be where you are being trained to be independent and innovative. One of my expectations at AIMS is to develop my competence in solving real life problems," he said.
Rachael Kyalo a student from Kenya said: "I am overwhelmed by the AIMS program, its something I have not seen before, their dedication and motivation to their vision and mission is one of a kind. I am grateful to them for the amazing work they are doing for the Africans and beyond. My expectation as an AIMS student is to flourish as an independent thinker and problem solver with excellence, skill and ability".