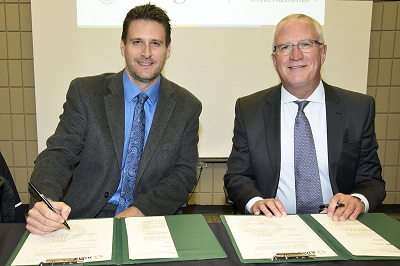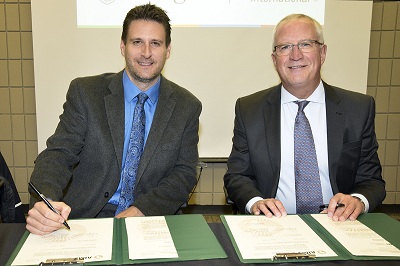 An AIMS delegation visited the University of Reginaon 19 October 2016 to finalise a new partnership between AIMS and the University. The highlight of the visit was a signing ceremony attended by roughly 50 faculty and students, with formal words of enthusiasm for AIMS, the University of Regina, and the partnership expressed by Thomas Chase (Provost & Vice President Academic, U Regina), Douglas Farenick (Dean of Science, U Regina), David Kribs (AIMS, International Academic Advisor), and AIMS alumni Comfort Mintah and Michael Nelson.
David Kribs and Thomas Chase (Provost & VP Academic, Regina) pictured above officially signed the partnership agreement.
The partnership is the first of its kind in Western Canada, with both a funding contribution by the university to AIMS and built-in academic exchange items such as faculty travelling to teach at AIMS centres in Africa and supervising AIMS student research essays. At AIMS, the partnership will be managed as part of the ForExcellence partnership program.
About the University of Regina
The University of Regina is home to 10 faculties and 25 academic departments which have established reputations for excellence and innovative programs leading to bachelor's, master's, and doctoral degrees. In Fall 2014, approximately 14,000 full-time and part-time undergraduate and graduate students enrolled at the University and its three federated colleges: Campion College, First Nations University of Canada, and Luther College. The Colleges bring excellence and diversity to the educational experience on offer. The campuses in Regina and Saskatoon are located on Treaty 4 and Treaty 6 land. In Regina, the main campus and historic College Avenue campus utilize 239 acres and provide an attractive study and work environment for students, faculty and staff. Both Regina campuses are located in Wascana Centre, one of the largest urban parks in North America and the first in Canada to be created by a tri-level government/education partnership.