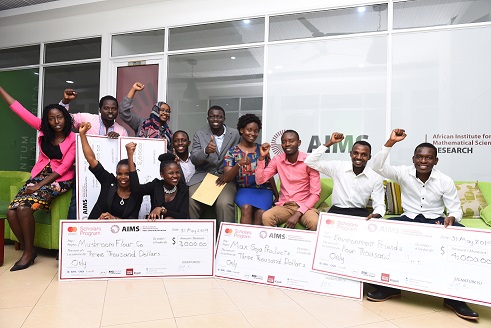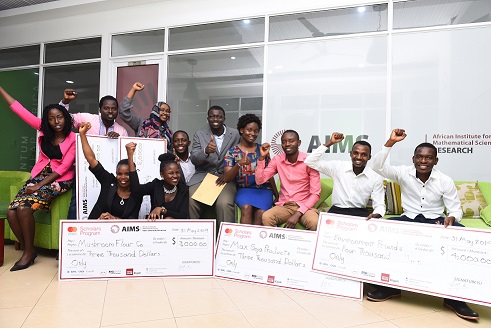 Twelve innovative ideas were recently pitched before a jury at the AIMS Rwanda Center in Kigali,Rwanda as part of the AIMS-managed Mastercard Foundation Social Innovation and Entrepreneurship Fund (MCF-SIEF).
For six weeks, 12 teams of AIMS Mastercard Foundation Scholars and alumni were taken through the paces of design thinking for social innovation and entrepreneurship. Impact Hub Kigali partnered with AIMS to deliver the design thinking for social innovation and entrepreneurship training to 24 scholars and alumni. The goal of the training was to better prepare scholars and alumni with knowledge and skills to innovate and generate creative solutions to social challenges.
Despite having great ideas, many scholars experience challenges accessing funds to implement their ideas. The MCF-SIEF is responding to this challenge by supporting young change makers to ideate, seed, kick-start and augment promising social ventures.
Training in design thinking will complement the technical skills AIMS-MCF scholars learn in their postgraduate studies, equipping them with creative problem-solving skills and a human-centered design mind-set community projects that create economic opportunities.
The hands-on learning experience allowed participants to practice on a specific design challenge in the following areas relevant to MCF–SIEF:
Improving existing livelihoods;
Enabling diversification of income;
Creating dignified and fulfilling work (jobs).
After defining the design challenge, participants tackled it by moving it from an idea to a firmed up, innovative, entrepreneurial solution ready for pitching at the final challenge.
At the end of the six weeks, the 12 teams pitched their ideas to a jury as a process of competing for seed funding to kick start their ideas.
The most innovative business idea, out of the twelve that were presented by the participants was 'Maize for Change'. This was an idea pitched by a team of three; Ephraim Nii Poncho- Kotey, Juste Nyirimana & Maram Hamid who are all AIMS students.
Maize for change is an initiative that would promote corn flour to be used to produce corn bread, corn oil, and have the waste products used as animal feeds. This would eventually make maize a powerhouse Rwanda and beyond.
"Maize having been on a decline", said Ephraim, one of the team members, "we want to avert that to help improve the lives of farmers."
Joseph Ndiritu, Manager – Mastercard Foundation Scholars Program said the innovation challenge was the first of its kind.
"This is the first event of this kind where we are awarding the most innovative ideas but it will be the first of many more." said Ndiritu.
"Ultimately, this program is an opportunity for enthusiastic young people to collaborate and create inspirational entrepreneurial projects that create economic opportunities and contribute to improving the lives of others, especially women and young people."