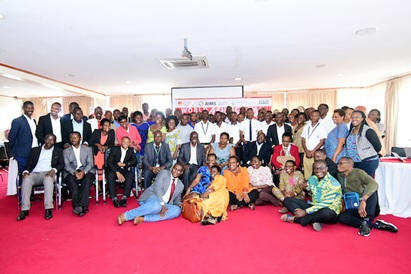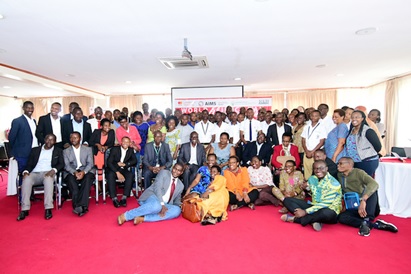 10 November 2018 – AIMS through its teacher training program in Rwanda celebrated World Science Day for Peace and Development with a breakfast for various stakeholders in the education sector including the officials of Rwanda's Ministry of Education, teachers, students, parents, AIMS Rwanda alumni, the Rwanda Association of Women in Science and Engineering and members of the private sector and the media.
By connecting science more closely with society, UNESCO initiated World Science Day for Peace and Development aims to ensure that citizens are kept informed of developments in science. The day further emphasizes the role of scientists in broadening society's understanding of the remarkable, fragile planet we call home and in making our societies more sustainable.
In a welcome address by Rana Auditto, AIMS Vice President and Chief Financial Officer, he emphasized, "The success of interventions such as AIMS teacher training program will require all of us, math and science educationalists, researchers, government and private sector leaders, development partners… to collectively work in ensuring our schools are well equipped so that more of our boys and girls are encouraged to pursue math and science at a post-secondary level".
This year's celebration was held under the theme "Science, a Human Right" in celebration of the 70th Anniversary of the Universal Declaration of Human Rights and of the Recommendation on Science and Scientific Research. In a statement signed by Audrey Azoulay, Director-General of UNESCO, she said, "Together, we should strive for greater access to science education – particularly for girls – as well as support Open Science and innovative ways for advancing research".
Mrs. Rose Baguma, Director General of Education Policy and Planning in Rwanda's Ministry of Education, in her keynote address emphasized the commitment of government to working with organizations such as AIMS and other stakeholders in promoting the study of science and mathematics. She applauded AIMS and other partners for their efforts in making science and mathematics accessible to all through its teacher training program and many others.
"AIMS Teacher Training Program in Rwanda, in partnership with MasterCard Foundation's Leaders in Teaching Program, is being implemented in 14 districts. Today we are here to dialogue and continue with our efforts to bring together various stakeholders to acilitate collaboration in the teaching and learning of STEM subjects in pre-tertiary institutions across Rwanda. We recently launched our flagship community outreach and public engagement activity dubbed Math's Clinic in Kamonyi District and we hope to cascade to the other districts as well," said Dr. Herine Menya (Director, AIMS TTP Rwanda)